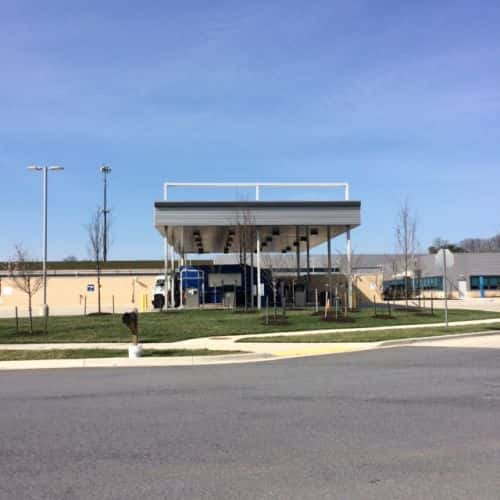 The Montgomery County, Md., Department of General Services (DGS) recently opened a new public-access compressed natural gas (CNG) station at the David F. Bone Equipment Maintenance and Transit Operations Center (EMTOC), located at 17000 Crabbs Branch Way in Rockville.
This represents the second CNG fueling site at EMTOC but the first open to the public: Less than a month ago, the county also completed a private CNG station at the operations center to fuel its transit buses. According to Bill Griffiths, chief of the county's fleet management division, the county currently has about 100 CNG transit buses and plans to have 150 by year's end.
Griffiths says the county teamed up with Trillium CNG to build the stations, and the public-access site offers both CNG and E85 fuel 24 hours a day.
Furthermore, the county claims the new CNG site is the only publicly accessible one within a 40-mile radius of the Washington, D.C., area. It will be used to fill the county fleet and contracted CNG refuse trucks, as well as fleets of local municipalities and the federal government that need access to CNG.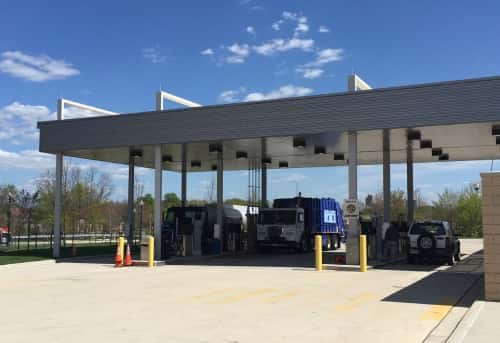 Both fueling stations are expected to help the county displace more than 1 million gallons of diesel fuel a year, and they are tied to a larger green fleet initiative that DGS has rolled out over the last year.
"Incorporating clean fuels into our public transit, safety and administrative fleets is critical to healthy and sustainable communities, as well as an effective and efficient transportation network," says County Executive Isiah Leggett. "We are happy to make this facility available to all county residents."
"Last fall, we deployed 16 Level 2 electric vehicle charging stations in county-owned facilities," adds DGS Director David Dise. "Additionally, we replaced 15 gasoline sedans with five battery/electric vehicles and 10 plug-in hybrid sedans that have reduced our gasoline consumption by over 1,000 gallons so far. The CNG and EV infrastructure are integral parts of the county's ongoing commitment to a cleaner, more fuel-efficient fleet."
Through these and other green fleet initiatives, the county says it has made significant progress in reducing petroleum consumption by more than 8% over the last two years.
In addition, the county has also committed to a 20% reduction of its petroleum use over the next five years. Building on this momentum, it has plans to expand its EV charging station network to other county facilities such as libraries and recreation centers this year.
Photos of the public-access CNG station courtesy of Montgomery County