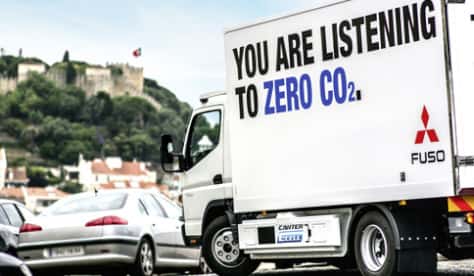 Mitsubishi Fuso Truck of America (MFTA) was on hand at the NTEA Work Truck Show in Indianapolis to give trucking industry leaders an update on its all-electric Fuso Canter E-Cell. According to MFTA, tests show that the Canter E-Cell can reduce operating costs by as much as 64%, compared with an equivalent diesel-powered vehicle. The company plans to bring the truck to the U.S. for further road tests.
The initial field trial began in mid-2014 in Europe, with Mitsubishi Fuso placing eight prototype Canter E-Cells on roads in various configurations, including flatbeds and dry van bodies. The eight prototypes drove a combined 31,600 miles during the yearlong field test without a single issue, averaging about 31 miles of driving per day but going as far as 67 miles on a single charge. The Canter E-Cell has a payload of approximately two metric tons.
Charging the batteries takes about seven hours from a 230-volt outlet, and the prototypes consumed an average of 47.6 kWh per 62 miles of driving. Even when accounting for pollution from power plants, the Canter E-Cell still delivered a 37% reduction in CO2 emissions.
MFTA announced that it is planning additional road trials and customer evaluations for the U.S. market.