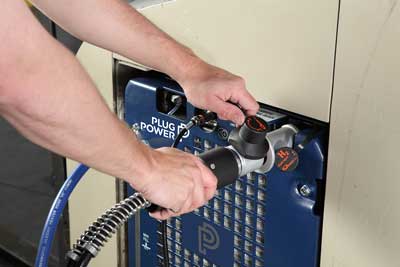 ENGIE recently selected Plug Power Inc., a provider of hydrogen engines and fueling solutions, to supply a custom refueling system for the world's largest hydrogen-powered mine haul truck, which is set to begin operation with global mining company Anglo American next year.
To support the refueling project, Plug Power has been tasked with building a full compression, storage and dispensing system to service the new hydrogen-powered vehicle. Plug Power's system will be the first of its kind, and the largest refueling system built by the company to date, with an expected output of 1,000 kg per day.
The hydrogen-powered truck will be tested at one of Anglo American's South African platinum mines.
"Our partnership with ENGIE is opening the door to exciting new opportunities outside of both the U.S. and the material handling market where we have continuously demonstrated our expertise," says Andy Marsh, CEO of Plug Power.
The first fueling of the new hydrogen truck is currently slated for the second half of 2020 and will be followed by a rigorous testing and validation program. Once the program has been successfully completed, additional truck deployments are expected to follow across Anglo American's other mining operations around the world.