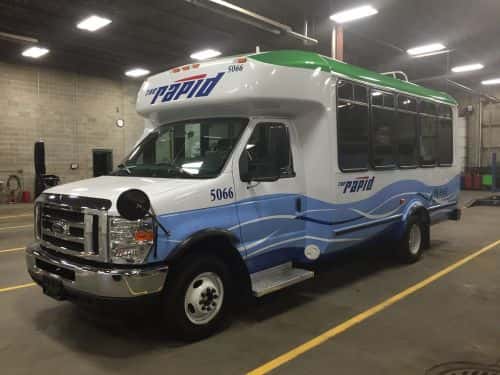 The Rapid, a transit authority in Grand Rapids, Mich., has added four new propane autogas buses with ROUSH CleanTech fuel systems.
The buses will be introduced into The Rapid's GO!Bus service, which is available for seniors and people with disabilities who cannot ride fixed-route services. The buses use smaller, cutaway vehicles for door-to-door trips.
A fueling station for the buses is located at the GO!Bus facility so that the vehicles can be fueled on-site as part of their daily maintenance.
The new buses are expected to reduce emissions, save on fuel costs and provide a quieter ride for customers. The vehicles will be specially signed, including a propane logo and a green roof line, similar to that used on hybrid-electric, 40-foot, fixed-route buses already in The Rapid's fleet.
The service will be operated and maintained by MV Transportation.
"By choosing this alternative fuel, the transit agency is providing clean transportation to its customers and saving taxpayer dollars," notes Todd Mouw, vice president of sales and marketing for ROUSH CleanTech.