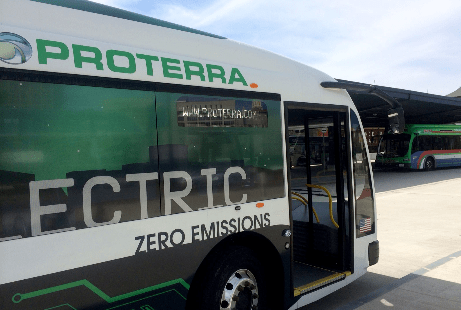 Proterra, which designs and manufactures zero-emission vehicles, has announced that the Metropolitan Transit Authority of Harris County (METRO) is to deploy a 40-foot Proterra Catalyst FC for 90 days beginning on Dec. 4, demonstrating the wide-ranging benefits that zero-emission, battery-electric transit technology can bring to the region's communities.
To launch this new deployment, Proterra and METRO debuted the new bus at a kickoff event on Nov. 29 at METRO Downtown Transit Center, at 1900 Main St., in Houston.
"At METRO, we are committed to providing an integrated system of innovative, accessible and efficient public transportation services to our customers throughout Harris County. We're excited to introduce our riders to electric transportation through this 90-day demonstration," says Thomas Lambert, president and CEO of METRO.
Based in Houston, the "Energy Capital of the World," METRO is the region's largest public transit provider, offering reliable transportation services about 370,000 times per day to a total ridership of 100 million annually.
"As a central hub for energy innovation, the Houston metropolitan area is a perfect location for Texans to experience the benefits of our state-of-the-art buses," says Ryan Popple, CEO of Proterra. "We're pleased to work with Houston on this demonstration project and look forward to continue helping Texas communities transition to a sustainable transportation future."
Proterra says it has sold 312 zero-emission buses to 35 different municipal, university and commercial customers across the country, with Dallas Area Rapid Transit, San Antonio VIA and Port Arthur Transit among the Texas agencies already on the Proterra customer roster.