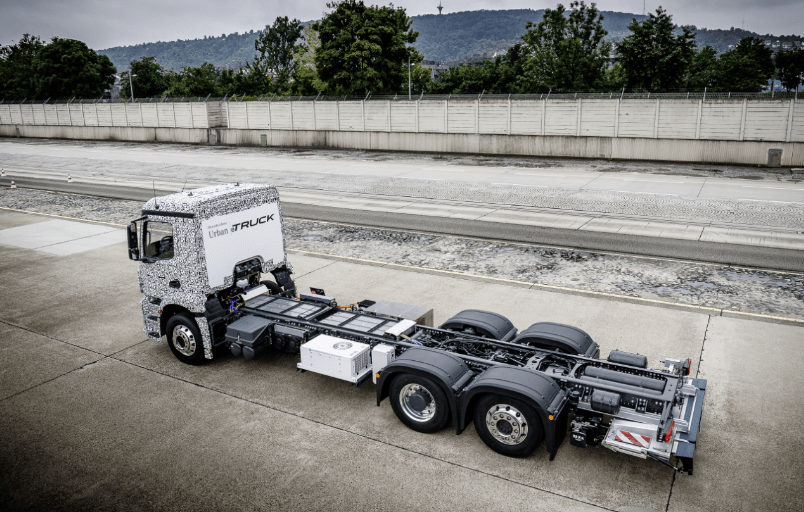 Daimler Trucks says it has released the Mercedes-Benz Urban eTruck, an all-electric, short-radius distribution heavy-duty truck. According to Daimler, this eTruck enables fully electric transport for the first time ever with an admissible total weight of 26 tons, with ranges of up to 200 kilometers and load capacity comparable with diesel drive.
In the light distribution sector, Daimler Trucks says it has been demonstrating the day-to-day suitability of the fully electric truck in customer trials with the Fuso Canter E-Cell since 2014. A considerable part of the future investments by the truck division in research and development flow in the further development of the full-electric drive.
"Electric drive systems previously only saw extremely limited use in trucks," says Wolfgang Bernhard, responsible for Daimler trucks and buses at the board of management. "Nowadays, costs, performance and charging times develop further so rapidly that now there is a trend reversal in the distribution sector: The time is ripe for the electric truck.
"With the Mercedes-Benz Urban eTruck, we are now electrifying the heavy distribution segment up to 26 tons," he adds. "We intend to establish electric driving as systematically as autonomous and connected driving."
According to Daimler, the Mercedes-Benz Urban eTruck is based on a heavy-duty, three-axle, short-radius Mercedes-Benz distribution truck, but it features a revised drive concept: The entire conventional drivetrain has been replaced by a new electrically driven rear axle, with electric motors directly adjacent to the wheel hubs – derived from the electric rear axle, which was developed for the Mercedes-Benz Citaro hybrid bus.
The truck manufacturer says the power is supplied by a battery pack consisting of three lithium-ion battery modules, resulting in a range of up to 200 kilometers, which is enough for a typical daily delivery tour. Thanks to the integrated concept with motors adjacent to the wheel hubs, the batteries are housed in a crash-proof location inside the frame.