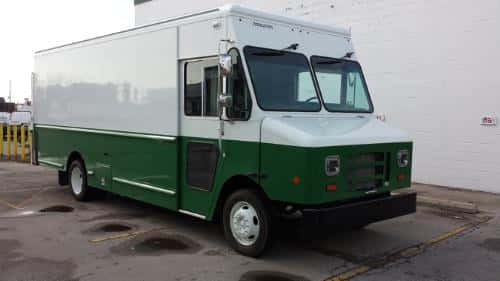 AmeriPride Services Inc., a uniform and linen supply company based in Minnesota, has taken delivery of its first hydraulic hybrid vehicle: a 2014 Ford F-59 chassis with a Morgan Olson Route Star walk-in van body and powertrain from Lightning Hybrids.
The company, which has about 1,900 delivery and service vehicles in its fleet, will put the new hydraulic hybrid vehicle – the first of its kind in the fleet – into delivery service in one of its Canadian Linen branches in Toronto. AmeriPride anticipates that the Lightning Hybrids system will significantly reduce fuel consumption, reduce brake maintenance costs and cut emissions.
'Testing this hydraulic hybrid is a part of a larger company initiative to reduce energy consumption and our carbon footprint,' says Brian Keegan, senior vice president of plant operations and supply chain for AmeriPride Services and Canadian Linen.
The company has already begun pilotin-testing a number of vehicle technologies amoung its fleet assets, including compressed natural gas, propane autogas and plug-in electric vehicles.
Lightning Hybrids' systems are made and assembled at the company's manufacturing and engineering facilities in Loveland, Colo. AmeriPride's truck was upfitted at Morgan Olson's facility in Sturgis, Mich.