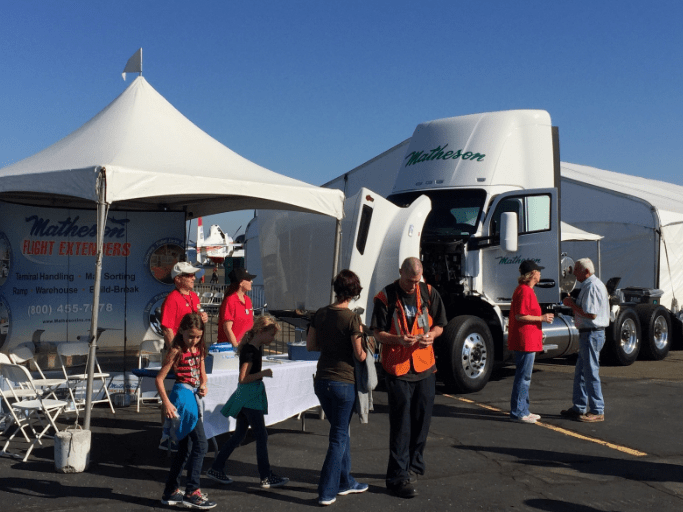 Matheson Trucking Inc., and its postal services division, will demonstrate one of its new liquefied natural gas (LNG)-powered truck tractors at the 11th Annual California Capital Air Show at Mather Field in an effort to showcase its green fleet technology.
"Our company is committed to improving air quality by lowering greenhouse-gas [GHG] emissions as we convert our fleet to use compressed natural gas [CNG] and liquefied natural gas," said Chuck Mellor, chief operating officer for this nationwide firm, one of the country's 10 largest contract carriers for the U.S. Postal Service.
According to Matheson, the company's pavilion will be located near the free Kid's Zone, where children and families can get a close-up view of this advanced technology and have a chance to sit behind the wheel. The company adds that it actively supports STEM (science, technology, engineering and mathematics) education for children, noting that new technology, such as LNG, will play an increasingly important role in our transportation future.
"As a family-owned and -operated business, Matheson recognizes the importance of STEM educational programs for youth in the greater Sacramento area. This is why we actively contribute to scholarships granted by STEM through our participation in the nonprofit Capital Air Show," said Mark Matheson, CEO and president. "A significant portion of show proceeds will give those wishing to pursue careers in science, technology, engineering and mathematics a chance to learn and develop their skills. Our clean energy LNG tractor is one example of an emerging technology made possible through applied science."
Matheson says its pavilion at the Capital Air Show will also offer information about the company and its clean energy expansion program designed to improve air quality, lower GHG emissions and decrease diesel fuel consumption on routes served by the Matheson postal services division.