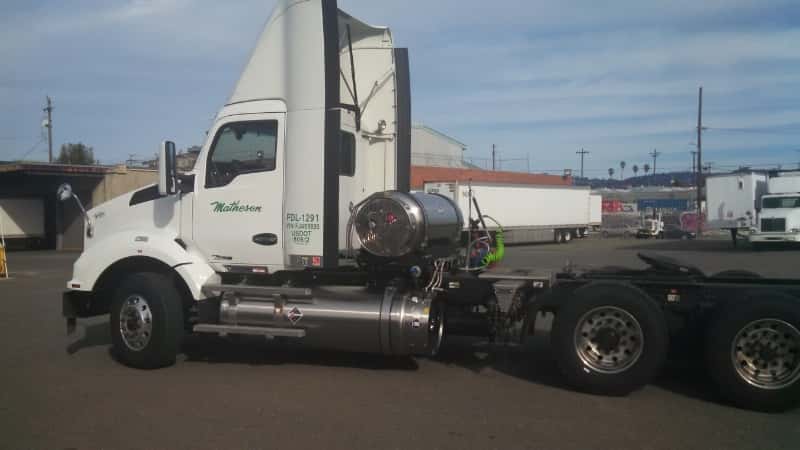 Matheson Trucking Inc. has added 25 new compressed natural gas (CNG) and 12 liquefied natural gas (LNG) tractors to its postal services division fleet as part of a company-wide clean energy expansion program.
"With annual fleet distances driven totaling nearly 36 million miles, combining peak and non-peak times, we continue to search for ways to reduce our carbon footprint and greenhouse-gas emissions to enhance the environment," says Debra White, vice president of information technology and fleet maintenance. "We're not doing this just to meet EPA clean air and state emissions standards – it's the right thing to do."
The company introduced 12 LNG Kenworth T880 day cabs in Oakland, Calif., in January and has completed the deployment of 17 CNG Kenworth T680's in Boise, Idaho. Matheson is in the process of taking delivery of eight additional CNG T680 sleeper cabs for its Los Angeles-to-Seattle runs.
The CNG tractors destined for Boise include five three-axle sleepers, 10 three-axle day cabs and two single-axle day cabs. These tractors pull a mix of trailers in Boise, with most in the 53-foot-long category used to transport U.S. Postal Service mail along designated routes.
"We plan to increase our inventory of green CNG tractors in the fleet wherever it is practical and cost-effective to do so, and while diesel may still have an edge on long-haul routes, Matheson wants to move in a positive, responsible direction by becoming less dependent on fossil fuel," says Joshua Matheson, vice president of operations.