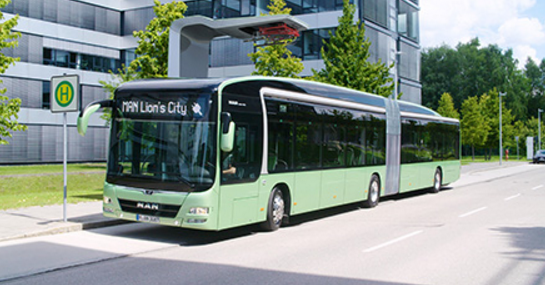 ABB, a power and automation technology group, says it is supplying fast chargers for depot and opportunity charging of electric buses to manufacturer MAN Truck & Bus for its new e-bus research and development (R&D) facilities in Munich, Germany.
In July, MAN Truck & Bus announced serial production of fully electric buses by 2019. Pilots of the e-buses are planned to go into operation in 2018. The buses are developed at MAN's R&D facilities in Munich, using a test bench equipped with different charging technologies from ABB.
"Energy-efficient and sustainable transportation is a key focus area of ABB's Next Level strategy, and we are committed to further advance e-mobility," said Robert Itschner, managing director of ABB's power conversion business unit. "ABB offers different technologies and solutions for electric vehicle [EV] charging, and we are very pleased that MAN Truck & Bus chose our fast chargers for its test facilities."
For depot charging tests – used at the terminus where a bus has a longer stop – MAN will use an ABB fast charger with a CCS2 connector at its facility. Following the European Union standardization for EV charging, it is the same connector that is used for electric cars.
For opportunity charging tests, ABB will supply a charge pole with inverted pantograph. With its automated rooftop connection and a typical charge time of three to six minutes, opportunity fast-charging systems allow charging at end stops and can easily be integrated in existing bus routes.
According to ABB, the fast-charging solutions are based on IEC 61851-23, the international standard for fast-charging EVs. This ensures the appropriate safety systems are in place, the electrical design is in accordance with regulations, and the system's architecture and working principles are supported by a wider automotive community in the future.
Both ABB and MAN Truck & Bus AG are project partners in the European e-bus charging system initiative, eBusCS, which promotes international standardization of charging processes for electric buses to facilitate the introduction of electric bus systems in European cities.