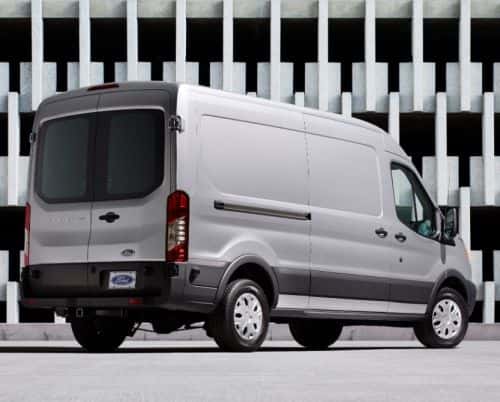 Ford has debuted its all-new 2015 Transit – the company's van platform that is destined to replace the venerable E-Series.
The Transit comes standard with a 3.7-liter V6 engine, with a 3.5-liter EcoBoost or 3.2-liter Power Stroke diesel as optional equipment. When equipped with the 3.5-liter EcoBoost engine, 2015 Transit low- and medium-roof, regular-wheelbase wagons achieve a 14 mpg city/19 mpg highway EPA-estimated rating, according to Ford. That reflects a fuel-economy improvement of as much as 46% compared to the Ford E-Series with the 6.8-liter V10 premium gasoline engine.
The company notes that the direct-injection, twin-turbocharged EcoBoost offers a torque rating of 400 lb.-ft. and 310 horsepower. The van also offers as much as 4,650 pounds of maximum payload capacity and a maximum towing capacity of 7,500 pounds.
Moreover, a compressed natural gas and propane autogas gaseous-prep package for the 3.7-liter V6 engine is available on the Transit. Other custom configurations to the van can be handled via 11 up-fit ship-through facilities.
The Transit was first introduced in Europe in 1965, and 7 million units have been sold worldwide since then. The vehicle will go on sale for the first time at U.S. and Canadian dealerships this summer.