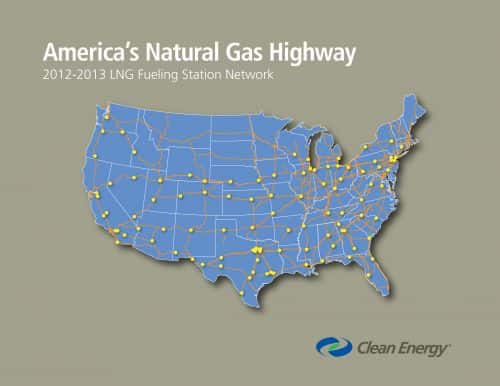 Clean Energy Fuels Corp.'s vision for coast-to-coast and border-to-border liquefied natural gas (LNG) refueling stations – which it has dubbed America's Natural Gas Highway – took further shape this week as the company released the route plan for the first phase of the initiative.
Clean Energy says America's Natural Gas Highway will comprise 150 new LNG stations. The company has selected 98 locations for the first phase of the build-out, and it expects 70 stations to be open by the end of the year. Many of the stations will be co-located at existing Pilot-Flying J Travel Centers, which operate in 47 states.
'Clean Energy has engaged over 100 shippers, private fleets and for-hire carriers that have shared their operations to qualify the economic opportunity of operating natural gas trucks, which has helped us, in turn, plan the first phase of the natural gas fueling highway,' says Andrew J. Littlefair, the company's president and CEO.
The route plan released this week shows that early segments of America's Natural Gas Highway will put LNG infrastructure on major roads connecting metros in California, Texas, Illinois and other states. Many of these stations will come online at the same time that engine manufacturers and truck OEMs release new Class-8 natural-gas-powered platforms, Clean Energy notes.