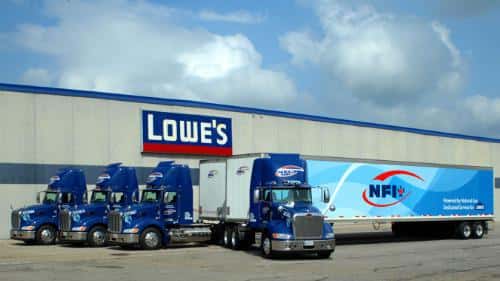 Home improvement and hardware giant Lowe's has taken another step toward operating a natural-gas-powered fleet with the introduction of Class 8 natural gas vehicles to its regional distribution center in Mount Vernon, Texas.
Lowe's is working on this project with NFI, one of its carrier partners. Clean Energy Fuels will be building natural gas refueling infrastructure in Sulphur Springs, Texas, to serve the new fleet, which will use liquefied natural gas (LNG). Lowe's transports up to 68 truckloads daily to stores in Texas, Louisiana and Oklahoma from its Mount Vernon site.
Steve Palmer, Lowe's vice president of transportation, says the company's goal is to shift 100% of its overall diesel-powered dedicated fleet to natural gas by the end of 2017.
'Broadly utilizing natural gas will give us an opportunity to better control our transportation fuel costs in the coming years,' he explains.
Lowe's, which is a member of the U.S. Environmental Protection Agency's SmartWay Transport Partnership, rolled out its first natural gas trucks at its distribution center in Kissimmee, Fla., last year.