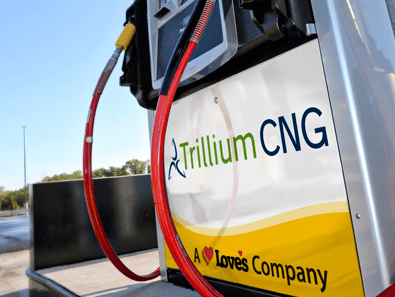 Love's Trillium CNG, part of the Love's Family of Companies, has opened a new compressed natural gas (CNG) fueling station to the public in Aberdeen, Md.
As reported, the Maryland Energy Administration (MEA) provided $500,000 in funding to assist station construction. The nearby Frito-Lay plant is the anchor fleet, benefiting from an additional $80,000 grant from MEA, which will utilize the station.
"We are pleased to welcome this new compressed natural gas fueling station from Trillium to northern Maryland, which will provide companies like Frito-Lay with a sustainable alternative fueling option. The increase of compressed natural gas stations in the state demonstrates Governor Hogan's commitment to protect the environment and promote our economy," says Mary Beth Tung, MEA director.
Located at U.S. Highway 40 and Old Philadelphia Road, the station offers two CNG pumps. The station is owned and operated by Trillium and open to the public, including light- and heavy-duty trucks.
"With the help of the Maryland Energy Administration and Frito-Lay, we can continue our mission of providing fleets with clean fueling options," says Bill Zobel, general manager of business development for Trillium CNG. "Working together to reduce carbon emissions is a priority, and the opening of this station here in Maryland is another step in that direction."
Frito-Lay has committed to expanding its CNG fleet and is the recipient of another MEA grant under the Freedom Fleet Voucher Program for a total award of $80,000 to go toward the purchase of four new delivery trucks.
Representatives from MEA, Trillium and Frito-Lay gathered at the station at 635 Old Philadelphia Rd. in Aberdeen on Dec. 2 to dedicate the station and see a fueling demonstration.