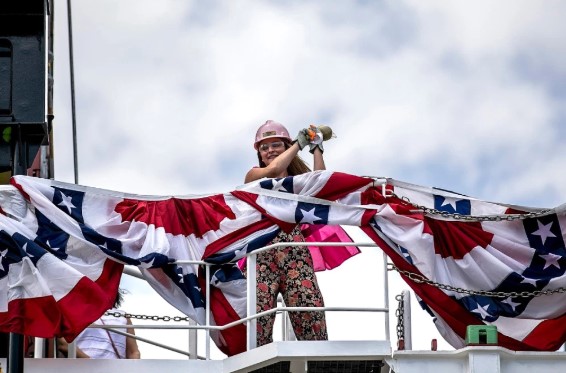 On Feb. 22, Crowley Maritime Corp. christened the U.S.-flag combination container/roll on-roll off (ConRo) ship MV Taíno – powered by liquefied natural gas (LNG) – in San Juan, Puerto Rico.
Clara Crowley, daughter of chairman and CEO Tom Crowley and board member Christine Crowley, served as the ship's sponsor and broke the ceremonial bottle of champagne on the bow of MV Taíno at the company's Isla Grande Terminal before several hundred employees, customers and dignitaries.
MV Taíno's sister Commitment Class ship, MV El Coquí, which entered service in 2018, is also powered by LNG. Used for U.S.-Puerto Rico trade, both ships are 219.5 meters (720 feet) long and 26,500 deadweight tons. They are able to transport up to 2,400 20-foot-equivalent container units at cruising speeds of greater than 22 knots. Each ship has enclosed, ventilated decks with capacity for 400 cars and large vehicles.
Both Jones Act ships were constructed at VT Halter Marine in Pascagoula, Miss., with Crowley Solutions providing construction management services.
The MV Taíno completed its maiden voyage from Jacksonville, Fla., to Puerto Rico in January.