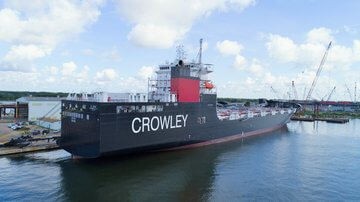 Crowley Maritime Corp. has taken delivery of El Coquí, a combination container/roll on-roll off (ConRo) ship powered by liquefied natural gas (LNG), from shipbuilder VT Halter Marine Inc.
El Coquí is the first of two Commitment Class, LNG-powered ConRo ships being built for Crowley's shipping and logistics services between Jacksonville, Fla., and San Juan, Puerto Rico.
Operated by Crowley's global ship management group, El Coquí will make its maiden voyage to San Juan later this month from JAXPORT, its dedicated U.S. mainland port in Jacksonville. Construction of sister ship Taino is under way at VT Halter Marine's shipyard in Pascagoula, Miss., and she is scheduled to enter service later this year.
The new Crowley ships, built specifically for Puerto Rico trade, are 219.5 meters (720 feet) and 26,500 deadweight tons. They will be able to transport up to 2,400 20-foot-equivalent container units at a cruising speed of 22 knots.
According to Crowley, fueling the ships with LNG will reduce emissions significantly, including a 100% reduction in sulphur oxide and particulate matter; a 92% reduction in nitrogen oxide; and a reduction of carbon dioxide of more than 35% per container, compared with current fossil fuels. Through a collaboration with Eagle LNG Partners, the ships will be bunkered from a shoreside fuel depot at JAXPORT.
"This is a thrilling time for the U.S. shipbuilding industry, as evolutions in LNG technology are providing a historic opportunity for American yards and the supporting industrial base to design, build and outfit some of the most technically advanced and environmentally friendly vessels that are the envy of the world," says Matthew Paxton, president of the Shipbuilders Council of America. "American skill and ingenuity, as well as critical laws like the Jones Act, serve as the backbone of our industry and embolden innovation and investment in domestic shipbuilding. El Coquí is a shining example of the work being done each day in our industry, and we are proud to support her, her crew and those who built her, as El Coquí embarks on her first journey from Jacksonville to San Juan."