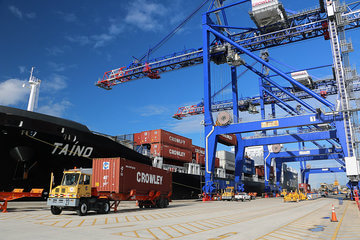 The second of Crowley Maritime Corp.'s new combination container/roll-on roll-off "ConRo" ships – MV Taíno, powered by liquefied natural gas (LNG) – completed its maiden voyage to Puerto Rico on Friday morning, Jan. 11.
The successful transit begins a new era of supply chain services between the island commonwealth, the U.S. mainland and the Caribbean Basin, says Crowley.
MV Taíno, which departed Jan. 8 from its mainland homeport of Jacksonville, Fla. (JAXPORT), is the second of two ConRo vessels constructed for Crowley. Sister ship MV El Coquí began its service in July.
The ships, built specifically for Puerto Rico trade, measure 219.5 meters (720 feet) and weigh 26,500 deadweight tons. They can transport up to 2,400 20-foot-equivalent container units at a cruising speed of more than 22 knots.
Both vessels are operated with U.S. crews by Crowley's global ship management group under Crowley Shipping. The vessels were constructed by VT Halter Marine at its Pascagoula, Miss., shipyard, with construction management provided by Crowley Solutions.
At JAXPORT, a new shoreside LNG fuel depot operated by Eagle LNG Partners supplies the fuel powering the ships. According to Crowley, LNG is a cleaner, more efficient fuel that offers significantly reduced emissions compared with other fuels, including a 100% reduction in sulphur oxide and particulate matter, a 92% reduction in nitrogen oxide, and a 35% reduction of carbon dioxide.