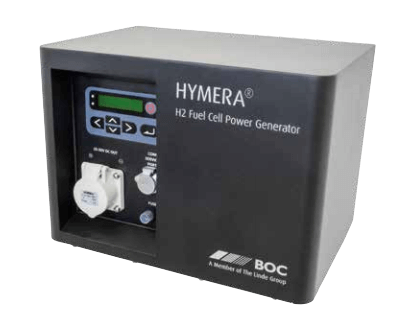 Linde North America Inc. says it will supply hydrogen fuel and its hydrogen technology expertise at this year's Make the Future Detroit event, featuring Shell Eco-marathon Americas, a competition that challenges students to design, build and drive energy-efficient vehicles.
For the first time in the U.S., Linde will also showcase its innovative HYMERA hydrogen fuel cell generator, a high-efficiency, portable hydrogen fuel cell generator. The company says HYMERATM is capable of charging as many as 40 mobile phones at a time and will enable Shell Eco-marathon participants and guests to stay connected during the competition.
As reported, this year marks the seventh consecutive year in which Linde supports student teams competing with hydrogen-powered fuel cell vehicles in Shell Eco-marathon events around the world.
Linde says it will be providing ready-to-install hydrogen cylinders to the teams competing with hydrogen fuel cell-powered vehicles, and a dedicated Linde technical team will be on hand throughout the competition to provide hands-on technical support and know-how for students.
"For Linde, the Shell Eco-marathon Americas competition represents an excellent opportunity to connect with and inspire the next generation of American engineers and innovators," says Sheila Eggert, head of talent management for Linde Americas.
"Through our ongoing participation in this unique event, we're establishing close ties with students who will soon be positioned to take advantage of STEM career opportunities enabled by hydrogen," she continues. "As the most economically viable clean energy fuel on display at the 2017 Shell Eco-marathon Americas, hydrogen continues to earn recognition for its potential to boost the U.S. economy."
Pam Rosen, Shell Eco-marathon Americas general manager, says, "Each of our partners bring significant benefits and opportunities to Make the Future Detroit, featuring Shell Eco-marathon, and we couldn't be more thrilled to have Linde as a long-standing partner of the competition. Linde helps provide our student teams with access to technical experts and support around the safe and efficient use of hydrogen and CNG."
According to a Global Market Insights report issued in 2016, the worldwide fuel cell market – including devices utilizing hydrogen – will have a value of $25 billion by 2024, with nearly one-quarter of that from North America.
Continuing hydrogen commercialization efforts would create numerous jobs, including those related to fueling stations operation; station planning and development; station construction; along with engineering and design ongoing supply and re-supply of station equipment; and all aspects of the hydrogen supply chain. In addition, as investments in hydrogen technology increase, they will generate new R&D and engineering jobs.
"Political winds may shift, but the march toward carbon reduction will continue creating an exciting environment for hydrogen technology and a potent opportunity for job creation," says Michael Beckman, vice president of hydrogen fueling for Linde Americas. "Large-scale commercialization of the gas is quickly becoming a reality, spurred by environmental sustainability, rapid developments in fuel-cell design, relevant infrastructure technologies, and a steady increase in adoption of hydrogen fuel-cell vehicles.
"There are already more than 2,000 zero-emissions, fuel-cell vehicles on the road today, and they fuel at nearly 30 fueling stations across the U.S.," he continues. "We expect both of those figures to double in the next 18 to 24 months."
Linde operates more than 150 separate hydrogen fueling stations in 15 countries. In the U.S., Linde operates four hydrogen fueling stations in California, including the world's largest fueling station for hydrogen fuel cell buses, serving AC Transit in Emeryville, Calif.