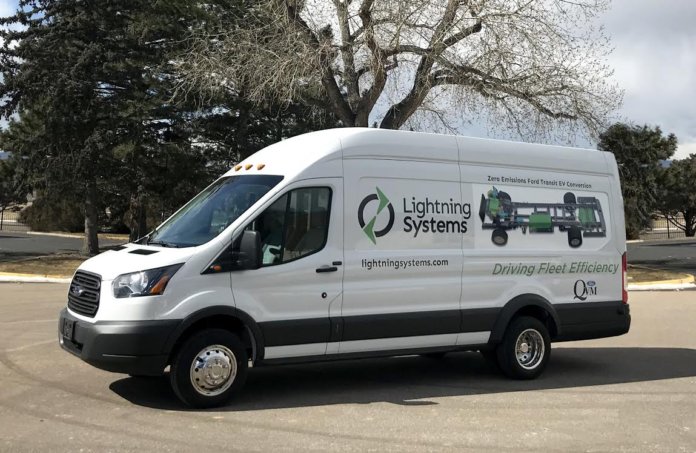 Loveland, Colo.-based Lightning Systems, a developer of efficiency and emissions improvement solutions for fleets, says it is on schedule for March deliveries of its new zero-emissions LightningElectric system for Ford Transit. Furthermore, the company has also developed a zero-emission hydrogen fuel cell range extender for the product.
The LightningElectric battery conversion package, available for Ford Transit as part of Ford Motor Co.'s eQVM program, was announced last September. As planned, the first customer deliveries will occur this month, says Lightning.
The product is on display in the Ford booth (#3239) at this week's Work Truck Show in Indianapolis. Lightning will also host a series of ride and drive opportunities in California and New York in April; locations will be announced soon.
The new zero-emissions hydrogen fuel cell range extender for the LightningElectric Ford Transit has been developed in partnership with several industry partners and will extend the range of the LE 50 to over 200 miles, the company says. Beginning in Septmber, it will be available in California, where significant vouchers for fuel cell vehicles and infrastructure exist, Lightning notes.
Both the all-electric and the zero-emissions hydrogen fuel cell range extender are available for heavy-duty transits with a 10,360-pound gross vehicle weight rating. In addition, Ford's vehicle warranty covers the base chassis for vehicles with the Lightning conversions. Installation and service are performed by Ford QVM upfitters and dealers around the world.
The all-electric Lightning product features a liquid-cooled lithium-ion battery that can be fast-charged in 30 minutes on DC fast charging and in six hours with Level 2 charging. Depending on battery option and drive cycle, LightningElectric has a payload capacity of up to 4,000 pounds, the company notes.
The LightningElectric fuel cell range extender uses hydrogen stored on-board in carbon fiber-wrapped pressure vessels equipped with sensors. The hydrogen is delivered to a fuel cell to charge the lithium-ion battery with up to 30 kW of power. The vehicle will have a range of over 200 miles and top speed of 75 miles per hour, says Lightning.
LightningAnalytics, a cloud-based analytics system that provides drive, route and predictive vehicle health scoring, is available as an option with every Lightning Systems vehicle. The analytics system provides fleets with real-time information to operate their fleet at peak efficiency, according to the company.