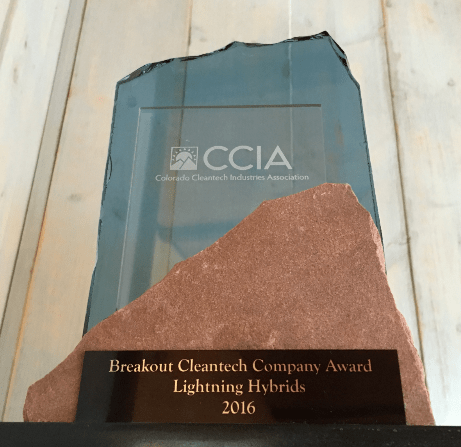 The Colorado Cleantech Industries Association (CCIA) has named Lightning Hybrids, a designer and manufacturer of the hydraulic hybrid Energy Recovery System (ERS) for medium- and heavy-duty fleet vehicles, the 2016 Cleantech breakout company for its clean vehicle efforts.
According to Lightning Hybrids, the Loveland, Colo.-based company was recognized for expanding the adoption of clean vehicle technologies that save fuel and reduce vehicle emissions and for its leadership in advancing cleantech job creation, successful fundraising efforts, company growth, innovation, and ability to scale technology. Winners in various cleantech categories were announced last night at the Colorado Cleantech Awards Celebration.
Tim Reeser, CEO of Lightning Hybrids, says, "CCIA is dedicated to driving the expansion of innovative clean technologies and has been instrumental in improving the cleantech infrastructure here in Colorado. This award is validation of our team's hard work, talent and ingenuity. This is for them and our investors for their commitment to high-tech vehicle technologies and clean air solutions for our fleet customers and their communities."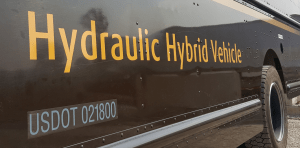 The company notes that UPS recently placed 50 of Lightning Hybrids' units in its Chicago fleet in time for the holiday rush. The hydraulic-hybrid maker's other recent customer orders include Kiessling Transit of Norfolk, Mass., which doubled the size of its hydraulic-hybrid green fleet to 70 vehicles; the National Renewable Energy Laboratory in Golden, Colo.; Denali National Park in Alaska; and Peapod, the largest internet grocer in the U.S. – all as previously reported.
As reported, the ERS system from Lightning Hybrids is a patented, parallel hydraulic hybrid system that applies a hydraulic system to the driveline of a vehicle to regenerate braking energy, rather than using electric batteries. Hydraulic pumps and a lightweight accumulator brake the vehicle, store the braking energy, and then use that stored energy to provide power to the wheels.
Founded in 2008, the CCIA is a statewide organization that impacts Colorado's policies, people, products and programs to drive expansion of a cleaner, cheaper, more efficient and secure energy economy.