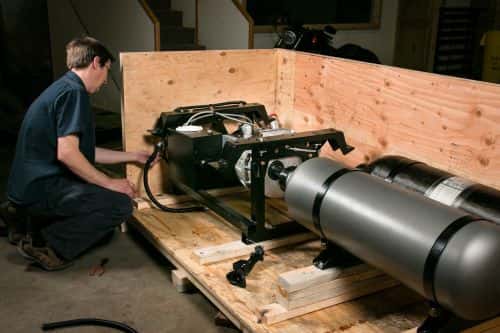 Lightning Hybrids, a Colorado-based developer of hydraulic hybrid systems for medium- and heavy-duty trucks and buses, has announced the opening of a U.K. subsidiary. In addition, the company has released the latest results of independent vehicle emissions testing regarding its technology.
Lightning Hybrids says its new U.K. office will be the hub for customer development, supply chain fulfillment and employee growth across the U.K., Europe and India. Tim Sherwood, managing director of international business, will direct the initiative to expand the Lightning Hybrids technology with commercial and municipal customers outside the U.S.
The expansion is fueled, in part, by an investment from U.K.-based Castrol innoVentures, Castrol's venture and innovation arm, as well as from Factor(E), the venture development firm affiliated with Shell Foundation and Colorado State University.
Lighting Hybrids' U.K.-registered office is located in the Isosceles Inward Investment Incubator near London's Heathrow Airport. The company says it is setting up a series of satellite offices and service partners to help support customers in other areas as well.
The company notes its first hybrid systems in the U.K. were delivered and installed this month and went on the road last week in two large local fleets.
Furthermore, Lightning Hybrids says independent tests on its hydraulic hybrid system have shown that the technology "consistently and significantly" reduced harmful vehicle emissions, regardless of the OEM platform.
The company says tests compared GM gasoline- and diesel-powered chassis with and without the Lightning Hybrids system activated. The same gasoline engine is used for some Freightliner Custom Chassis applications, notes Lightning. The company says testing was done on both the Orange County Bus drive cycle and on the Braunschweig City drive cycle.
According to Lightning, the results showed the following:
– The gasoline engine's NOX output was 0.15 grams per mile on the OC Bus drive cycle with the Lightning Hybrids system installed. The company says the NOX output of a GM diesel engine on the same platform and drive cycle without the hybrid system was 4.23 grams per mile, making the hybridized gasoline vehicle 28 times less polluting than the equivalent conventional diesel vehicle.
– The NOX output for the same gasoline engine without the Lightning Hybrids system was 0.31 grams per mile – twice as polluting as the same vehicle with the hydraulic hybrid system installed, according to the company.
– Lightning Hybrids says its techology-equipped vehicle saw 18% decreases in CO2 emissions versus the same baseline vehicle on both drive cycles.
"Regardless of platform, engine or fuel types tested, the results tell the same story – that Lightning Hybrids' system is the right technology for fleets to deploy to make a significant impact on their emissions-reductions commitments," says Tim Reeser, president and co-founder of Lightning Hybrids.
A white paper with the full results is available here.