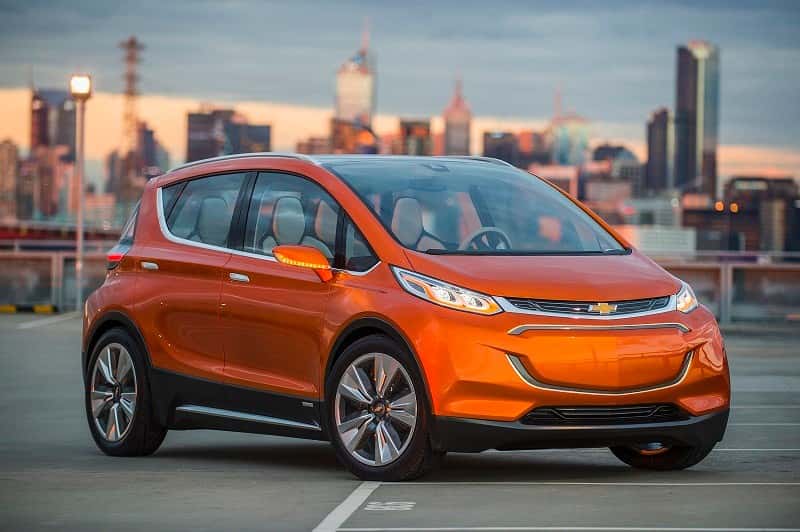 General Motors says a strategic partnership with LG has helped make the all-electric Chevrolet Bolt vehicle a reality. The Bolt EV concept was officially revealed earlier this year, and the vehicle, which GM says can travel more than 200 miles on a single charge, is slated to go into production at GM's Orion Township, Mich., assembly plant in late 2016.
According to GM, LG supplied an array of new components and systems for the Chevrolet Bolt EV, including the electric drive motor (built from GM design), battery cells and pack, power inverter module (converts DC power to AC for the drive unit), on-board charger, electric climate control system compressor, and high power distribution module (manages the flow of high voltage to various components), among other solutions.
LG Electronics Vehicle Components led a team of LG companies, including LG Chem, LG Innotek, LG Display and LG Electronics, to help develop the Bolt EV. LG Electronics has invested more than $250 million in an engineering and manufacturing facility in Incheon, Korea, to support the component development and manufacturing for Bolt EV components.
Mark Reuss, a GM executive vice president, says, "By taking the best of our in-house engineering prowess established with the Chevrolet Volt and Spark EV, and combining the experience of the LG Group, we're able to transform the concept of the industry's first long-range, affordable EV into reality."
In February, GM announced a target price of around $30,000 for the vehicle.
GM notes its relationship with LG began in 2007, when LG Electronics was tasked with supplying the vehicle communications module for OnStar, GM's telematics system. Another LG-owned company, LG Chem, and GM have a long-standing relationship: the company was chosen as the sole supplier of battery cells for the first-generation Chevrolet Volt, which launched in 2010.