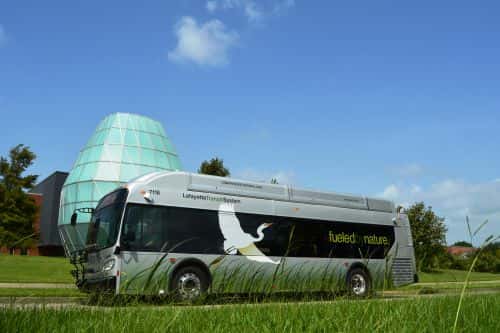 Last week, two new compressed natural gas (CNG) buses hit the streets and started running routes in Lafayette, La. According to the Lafayette Transit System (LTS), the buses are part of its ongoing fleet conversion that began in 2011.
LTS says the new buses cost approximately $430,000 and are expected to provide transit services for the next 12 years. The fleet conversion from diesel to CNG is funded, in part, through a grant from the Federal Transit Administration, with matching funds from Lafayette Consolidated Government (LCG).
All of the fleet's CNG buses are fueled at the CNG station operated by LCG. The CNG station, one of only two in Lafayette, is located at 1505 E. University Ave. and has been open to the public since 2012. The LCG fueling facility also launched in 2011 as a part of the fleet conversion project.
LTS says it now operates only one diesel-fueled bus on regular routes, and all other diesel buses are a part of its spare fleet.
"As we convert the fleet to CNG, we are more able to take advantage of lower fuel costs," says LCG Public Works Director Kevin Blanchard. "This helps make our transit system as efficient as possible."