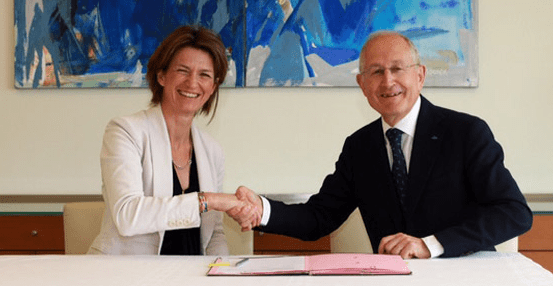 La Poste Group and ENGIE, via its wholly owned subsidiary GNVert, say they are joining together to develop various eco-mobility projects, including designing natural gas and hydrogen vehicles, in conjunction with their green and sustainable mobility goals.
According to the companies, they will be cooperating to design refueling solutions for certain La Poste fleets of natural gas/biogas and hydrogen vehicles. The five-year agreement was signed by La Poste Group CEO Philippe Wahl and ENGIE CEO Isabelle Kocher.
According to La Poste Group, its goal is to establish its leadership in sustainable mobility by prioritizing large-scale use of low CO2 fuel emission vehicles, making a significant contribution to reducing air and noise pollution in cities. Through GNVert, this partnership will enable ENGIE to contribute to the development of the promising alternative fuels market, based on fuels that are less CO2 emitting and without particulates.
The agreement also establishes conditions necessary for the development of biomethane fuel, a renewable natural gas fuel from methanization of waste.
La Poste Group says it has one of the largest electric vehicle fleets in the world, with close to 30,000 motor vehicle trucks, automobiles, four-wheel and three-wheel all-terrain vehicles, and electric bicycles. For the past year, La Poste Group has also been involved in developing natural gas-powered vehicles for use throughout France.
ENGIE is developing solutions for public transport – including electrification, signal system installations and service optimization – and alternative fuels, including natural gas and electric mobility. To accelerate the adoption of alternative fuels, the ENGIE Group has decided to invest up to EUR 100 million over five years to develop natural gas fuel for trucks in Europe.