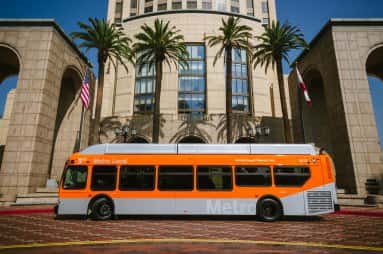 The Los Angeles County Metropolitan Transportation Authority (LA Metro) has rolled out the first new compressed natural gas (CNG) vehicle in a major deployment of heavy-duty transit buses.
In January 2013, the agency's board of directors OKed a $308 million contract for the supply of 550 new CNG-powered buses, to be added to the group's already extensive CNG fleet. New Flyer Industries Inc. will fulfill this contract over the next year and a half, building 40-foot Xcelsior buses for LA Metro. New Flyer first supplied CNG-powered units to the agency more than 15 years ago.
LA Metro notes that the first CNG buses in this new batch will be in service in South Los Angeles, West Hollywood and Carson. The contract with New Flyer has an option for a large extension, for the provision of an additional 350 CNG buses. That part of the contract has not yet been executed.