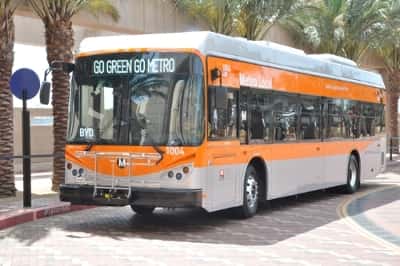 The Los Angeles Metropolitan Transportation Authority (LA Metro), which has an extensive compressed natural gas (CNG) bus fleet, has officially taken delivery of its first five battery electric transit buses from BYD Motors.
According to Los Angeles-based BYD Motors, the 40-foot electric buses will be directly integrated into the agency's daily operations, as the buses are capable of driving more than 155 miles on a single charge.
'I am so proud to see the electrified transportation movement alive and well here in Los Angeles,' says BYD Founder and Chairman Chuanfu Wang. 'We know from widely available data that buses and taxis emit nearly 30 percent of the world's harmful emissions, yet only account for 1.7 percent of total vehicle ownership. The fastest way for us to influence the most change, and help as many people as possible, is to replace our fossil-fuel-burning transit buses."
LA Metro will test the first five electric buses on various routes around the city to evaluate their optimal route profiles. There are still 20 more electric buses left on Metro's contract with BYD Motors, and if all goes well, the city hopes to see more electric buses on the streets soon.