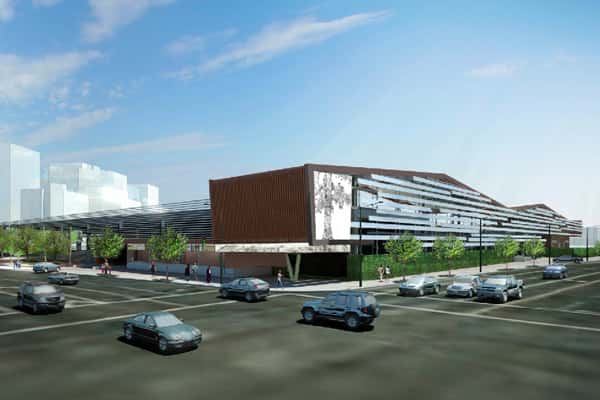 Los Angeles County Metro's new bus maintenance facility on the edge of downtown L.A. has been officially unveiled this month. The facility, named Division 13, is set to receive a Gold LEED designation for its high level of environmentally friendly design.
The new Division 13 facility incorporates numerous environmentally friendly features, including a 275,000-gallon cistern and pump used for reusing rainwater to wash buses, as well as other uses. Skylights in combination with brightly colored paint is used to reflect light and reduce the need for electricity, and a rooftop garden with native California plants is used to counter storm water run-off and the urban heat island effect.
"Division 13 is a model of energy efficiency and design and will serve as an example for other transportation agencies world-wide," says Los Angeles County Supervisor Michael D. Antonovich. "This necessary investment in our transportation infrastructure ensures safe and reliable travel options to meet the needs of today's riders as well as for future generations."
Division 13 has storage and support space for 200 compressed natural gas (CNG) buses. The 7.4 acre facility took three years and $120 million to build. When construction first began in 2012, Metro estimated that construction would take just two years.
However, a structure collapse during its construction in 2014 forced the project to pause for an investigation to be completed. No one was injured when the second story of the parking structure tumbled down.