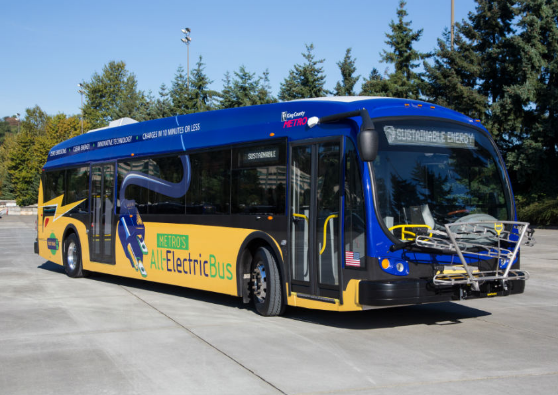 King County Executive Dow Constantine has announced that King County Metro Transit in Washington will purchase up to 73 all-electric battery buses from Proterra at a cost of up to $55 million, starting with 20 buses totaling $15.12 million.
As reported, charging stations to support the initial orders of those buses will range from $5.5 million to $6.6 million.
In the past, Metro has received federal funding to support Metro's new bus purchases. Last year, specifically, King County Metro received a $3.3 million grant from the Federal Transit Administration's Low- or No-Emission Vehicle Deployment Program to help fund some new battery buses and charging stations for three buses that are in operations on the east side of King County.
"From our electric trolley bus fleet, to building the nation's largest diesel-hybrid bus fleet, King County has long been an innovator in clean vehicle technology," says Constantine. "Now, we're dramatically expanding our zero-emission electric buses and working with the industry to innovate and offer next-generation vehicles that move people quietly and cleanly, while helping meet our climate goals."
The 40-foot battery buses have an estimated range of about 25 miles, with a quick charging time of just 10 minutes.
According to Constantine, the maintenance costs for all-electric buses are expected to decline versus hybrid-diesels, primarily because they have fewer moving parts.
Eight of the buses are slated to go into service this year, with 12 more in 2019. Up to eight of the new 40-foot battery buses will likely operate on Metro Routes 226 and 241 in Bellevue.
As part of a pilot project last year, Metro began running three all-electric buses on these routes, which serve some of the county's densest job centers, including the Microsoft campus and downtown Bellevue.
As part of this announcement, Metro will acquire up to nine long-range electric buses from different manufacturers to test the battery technology with a range of about 140 miles. With this approximately $7 million acquisition, Metro is challenging the industry to produce buses that can travel farther. Metro is also calling on the industry to develop 60-foot-long buses, better able to replace the articulated buses that make up 55% of its fleet.
Running cleaner and quieter and reducing dependence on fossil fuels, each battery bus reduces tailpipe greenhouse-gas emissions by an estimated 65 tons each year – the equivalent of 21 cars off the road.
According to Metro, it was the first transit agency to adopt diesel-electric hybrids, and it currently operates more than 170 electric trolley buses.
The new battery bus technology will reduce Metro's fuel use, as it provides more service to customers, adhering to the county's Strategic Climate Action Plan, which calls for both increased transit service and a cleaner fleet to reduce greenhouse-gas emissions.
"To better serve our customers, we want battery buses that travel longer distances and can carry more people," says Metro Transit General Manager Rob Gannon. "We're committed to expanding our battery bus fleet and need the industry to accelerate development of standardized battery bus charging systems so they can work flexibly for any bus route and also build more 60-foot-long articulated buses, which serve as the transit workhorses in King County."
In conjunction with this battery bus order, Metro is conducting a comprehensive analysis of the best approach for achieving a zero-emissions fleet. Metro says a Battery Bus stakeholder group is advising on the approach and priorities for achieving a zero-emissions fleet.
Ryan Popple, CEO of Proterra, says, "King County Metro's decision to purchase up to 73 Proterra battery-electric buses not only represents a significant milestone for mass transit in the U.S., but also a resounding victory for the clean transportation industry as a whole."