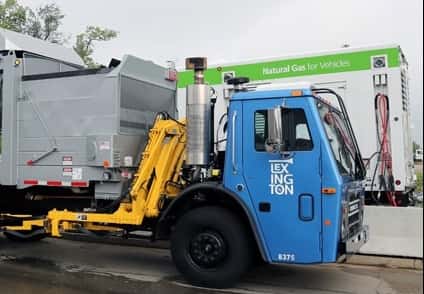 The City of Lexington, Ky., has deployed 11 refuse trucks that are powered by compressed natural gas (CNG) to its municipal fleet and unveiled city-owned CNG refueling capabilities.
The city's division of waste management purchased the natural gas vehicles as part of its normal vehicle replacement schedule. Each truck costs approximately $350,000, which is comparable to the price of diesel trucks that the city would normally buy. The average annual savings from each CNG truck is approximately $6,500 in fuel costs and preventive maintenance, according to city officials.
According to Lexington's fleet replacement schedule, two additional CNG-powered units will be delivered in December. The city has also budgeted $2.9 million to buy 10-12 additional trucks over the next year.
Lexington's CNG refueling station is a private facility located at the waste management division's headquarters off Old Frankfort Pike. Columbia Gas extended its gas-distribution pipeline to the site in order to accommodate the station, which was built by Clean Energy Fuels.
The city notes that it is planning on developing a public-access CNG station with the financial assistance of a $1.25 million federal grant.