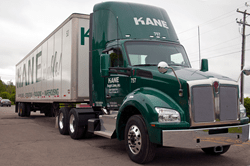 Although Kane Is Able Inc. still isn't operating its compressed natural gas (CNG)-powered trucks following a January fire and subsequent lawsuit, the third-party logistics provider nevertheless likes the notion of using cleaner-burning vehicles. In fact, the company recently expanded its fleet with the purchase of 30 new Kenworth T680 diesel-powered trucks, which the company says will produce near-zero emissions.
Kane notes the T680 has received SmartWay designation from the U.S. Environmental Protection Agency and features the PACCAR MX-13 diesel engine. The company says the selective catalytic reduction, combined with exhaust gas recirculation, allows the PACCAR MX-13 "to boast near-zero emissions."
"We are excited about the new Kenworths," Alex Stark, Kane's senior director of marketing, tells NGT News. "Our drivers love them, and we are extremely satisfied with their fuel economy. Right after safety, we are continually thinking of ways to be sustainable – both for ourselves and our customers. The new trailers certainly fit the bill."
Kane says it operates 25 distribution centers throughout the U.S., and the company's Northeast and Southeast regional truck fleet consists of 150 power units and 600 trailers.
In August, Kane filed a lawsuit against Volvo Group North America alleging the truck maker will not honor its warranty obligations after one of Kane's seven CNG-powered Volvo tractors caught fire earlier this year.
Notably, Volvo said the claims against the company "are without merit," and Cummins Westport and Agility Fuel Systems, which were also named in the lawsuit, both maintained that their products did not contribute to the incident.
Stark says the lawsuit is still active. Kane has not operated its remaining Volvo CNG trucks, which were the logistics company's first and only CNG vehicles, since January.
Stark reiterates a claim he made in August, saying, "We never received any official word (which we were seeking) on the safety of the vehicles. Without that, we simply will not place our drivers and the public into a situation we feel has a potential to be unsafe."
In August, a Volvo spokesperson contended, "Safety is a core value for Volvo, and we worked closely with our supplier partners to thoroughly examine the vehicles Kane decided to park – this investigation convinced us that the vehicles should be returned to service."
As to whether Kane will actively seek out clean diesel models in the future and has sworn off CNG altogether, Stark explains, "We've been in business since 1930, and we focus on doing what's best for our customers. If clean diesel power provides favorable economies while at the same time providing positive impact to sustainability, then we'll continue to pursue those avenues. For us, it's about delivering excellence and reliability to our customers at a competitive cost."
Nonetheless, he adds, "We haven't given up hope on CNG. It's certainly gaining traction in the market and has demonstrated that it can be successful in other areas of the country where the terrain and the infrastructure is conducive. We had an unfortunate experience; however, we believe that the technology will eventually catch up and compete on a level field with diesel someday."
To read more about the lawsuit and each party's stance, click here.