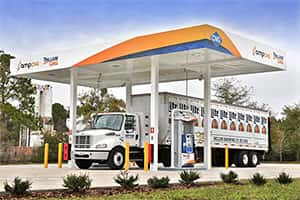 amp Trillium LLC, the joint venture between ampCNG and Trillium CNG, and Champion Brands Inc. have completed the first public-access compressed natural gas (CNG) station in Jacksonville, Fla. The companies will host a grand opening event on Feb. 26 at the facility, which is located at 9711 Mining Dr. off of Highway 1.
'We are very excited to open Jacksonville's first CNG station and believe this will bring more CNG-fueled trucks to northern Florida,' says Steve Josephs, director of engineering and co-founder of ampCNG. 'ampCNG is committed to providing heavy trucking fleets with convenient access to CNG and plans to open several more CNG stations across the country this year.'
The Jacksonville station includes two dual hose dispensers, allowing two semitrailers to fuel at the same time, and features Trillium CNG's proprietary fast-fill hydraulic intensifier compressor. The facility will be open 24/7.
Champion Brands Inc., a Jacksonville-based malt beverage distributor, is the station's host. The company has begun replacing its diesel fleet with CNG trucks, and the first wave of CNG vehicles hit the road Oct. 1, 2014. The company's fleet will be fully replaced with CNG by July 2017.
"I couldn't be happier," says Earl Benton, president and CEO Champion Brands. "amp Trillium is a great partner. This project is important not only to Jacksonville and our region, but also to the future of our economic viability and our goal of making Jacksonville the transportation and logistics hub of America. It also supports the Global Cities Initiative of increasing exports. The word is out – CNG is available in northeast Florida."
Photo courtesy of Ken McCray Photography