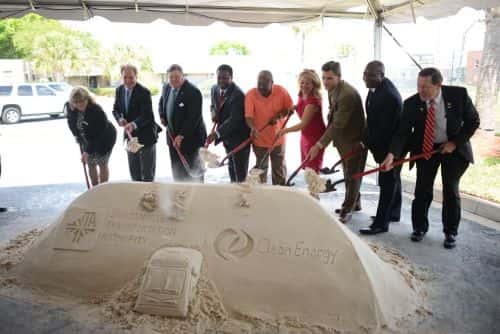 On Tuesday, the Jacksonville Transportation Authority (JTA) held a groundbreaking ceremony for a public-access compressed natural gas (CNG) station at its Myrtle Ave., Jacksonville, Fla., operations campus.
Over the next five years, JTA says it will replace 100 diesel buses with CNG models. Many of the buses will support the authority's 55-mile First Coast Flyer Bus Rapid Transit system.
JTA awarded the CNG station project to Clean Energy Fuels Corp. last year. Under the $8.1 million deal, Clean Energy will design, build, operate and maintain the station during the 15-year agreement. The project is expected to be completed this December.
"CNG has environmental and financial benefits," said JTA CEO Nathaniel P. Ford Sr. "When construction is completed at the end of this year, CNG will have a major impact on how the JTA does business, how the authority contributes to the sustainability of Jacksonville and the Northeast Florida region, and on JTA's finances because of the tremendous savings we will experience over time by using CNG instead of diesel."
Other attendees at the ceremony included Jacksonville Mayor Alvin Brown, JTA Chairman Scott L. McCaleb, Clean Energy SVP Peter Grace and North Florida TPO Executive Director Jeff Sheffield.
Photo courtesy of the Jacksonville Transportation Authority