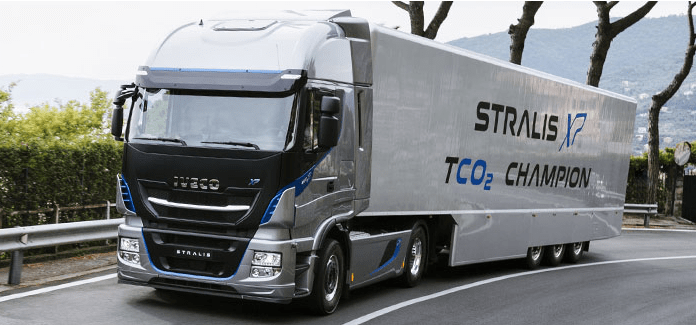 The commercial vehicles manufacturer Iveco and the energy company Uniper say they have opened Germany's first liquefied natural gas (LNG) fueling station for trucks in Ulm.
According to a joint press release from both companies, the fueling station will be used in particular for endurance tests in trials of innovative engine concepts for long-haul transportation.
"The Stralis is now the first LNG vehicle in Europe that is fully capable of long-haul transportation from the perspective of drivers and business owners," says Sascha Kaehne, business director at Iveco Magirus AG.
The companies say that they made this decision because LNG-powered trucks emit substantially less carbon dioxide, nitrogen oxides and particulate matter and are much quieter in operation than comparable diesel-powered vehicles. Moreover, they add that a tank of refrigerated LNG provides 600 times as much power as normal natural gas, making it possible to use natural-gas-powered trucks for long-haul transportation.
Uniper says it has substantial quantities of LNG at its disposal and the requisite capacity at LNG terminals, selling LNG fuel under the LIQVIS brand.
"The construction of this fueling station in Germany represents a first, important step in the development of innovative, environmentally friendly fueling alternatives in long-haul transportation," says Eckhardt Rümmler, Uniper's chief operating officer, who is responsible for the development of new business segments.
"Working in further partnerships, we want to build a fit-for-purpose network of LNG fueling stations in Germany and selected neighboring countries in the next few years," he adds. "We are, thus, making an important contribution toward improving environmental performance and noise reduction in road transportation."
Combining LNG as the storage method and Iveco's new Stralis NP model, the companies state there is now a practical solution for the use of natural gas in long-haul transportation.
Recently introduced
in Madrid, the natural gas vehicle features a 400 hp engine, a 12-speed automated gearbox and Iveco's high-roof "Hi-Way" cabin.