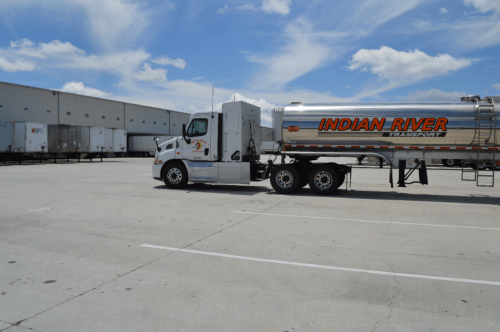 Indian River Transport Co. has added five Freightliner Cascadia 113 compressed natural gas (CNG) day cab trucks to its fleet. The new trucks mark the first alternative fuel vehicles in the company's 600-tractor fleet.
Headquartered in Winter Haven, Fla., Indian River Transport is a large food grade tank carrier providing transportation services throughout the U.S. Each new CNG truck will be used for 10 to 12 runs per day.
"One of our customers wanted a smaller carbon footprint, lower fuel costs and reduced noise levels in the communities these trucks serve," explains Mark Gressett, safety director for Indian River Transport. "Freightliner's natural gas solution aligned with our priorities."
Powered by the Cummins Westport ISX12 G heavy-duty natural gas engine, the Cascadia 113 CNG day cab is ideal for regional hauling and vocational operations, according to Freightliner Trucks. It is available with a variety of CNG fuel tank configurations, up to 190 diesel gallon equivalent (DGE) capacity with an anticipated fill-range of about 800 miles.
"Indian River Transport has built its 40-year business on continually embracing new technologies to better serve customers, and natural gas was the next step for them," states Robert Carrick, natural gas sales manager for Freightliner Trucks.
Freightliner Trucks notes it has sold more 3,000 natural-gas-powered trucks and tractors since 2008.