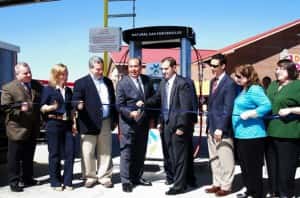 IGS Energy CNG Services has emerged on the natural gas refueling scene with the opening of its first fueling station: a public-access site located at an Exxon station in Bridgeport, W.Va.
In January, the company announced plans to build CNG stations along I-79 from Charleston, W.Va., to Mount Morris, Pa. The Bridgeport station is the first of three to come online, with two more scheduled for completion before the end of the year.
Natural gas vehicles (NGVs) that operate in three major companies' fleets – EQT Corp., Antero Resources and Chesapeake Energy Corp. – will refuel at IGS' new station. Additionally, West Virginia's highway department will soon begin deploying NGVs, which will also access CNG at IGS stations along I-79.
'Opening West Virginia's first public CNG fueling station demonstrates the commitment we and our partners have to support the general public's desire for multiple fueling options,' says Al Schopp, chief administrative officer and regional vice president, Appalachia, for Antero Resources.
IGS Energy CNG Services is a unit of IGS Energy, an independent energy supplier founded in 1989.