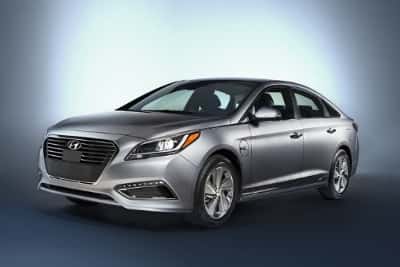 As its model-year 2016 Sonata plug-in hybrid electric vehicle (PHEV) arrives in select U.S. dealerships this week, manufacturer Hyundai is touting the new vehicle's U.S. Environmental Protection Agency (EPA)-estimated all-electric range of 27 miles.
Furthermore, the company says the Sonata PHEV's 9.8 kWh lithium polymer battery system is roughly five times larger than the Sonata Hybrid's battery and helps it achieve a "class leading" 99 MPGe combined EPA estimate in charge-depleting electric vehicle mode.
The 2016 Sonata PHEV pricing starts at $34,600 for a well-equipped model, and Hyundai notes the vehicle is eligible for a $4,919 federal tax credit based on the 9.8 kWh battery capacity. Additional local incentives also may be available depending on the state of residency.
"[This] is the first plug-in hybrid electric vehicle for Hyundai and gives drivers the best of both worlds by providing the power delivery of a conventional gasoline engine for long trips or vacations with the additional benefit of environmentally friendly all-electric range for commuting," says Mike O'Brien, Hyundai Motor America's vice president of corporate and product planning.
"The flexibility of this alternative powertrain delivers efficient hybrid operation and eliminates any concerns for range anxiety, while providing an impressive total driving range capable of 600 miles."
According to Hyundai, the Sonata PHEV's battery system can be charged via an external electric power source using either a Level-1 120-volt power outlet in less than nine hours or a Level-2 240-volt charging station in under three hours.
The new PHEV will be available in California, Connecticut, Maine, Maryland, Massachusetts, New Jersey, New York, Oregon, Rhode Island and Vermont.