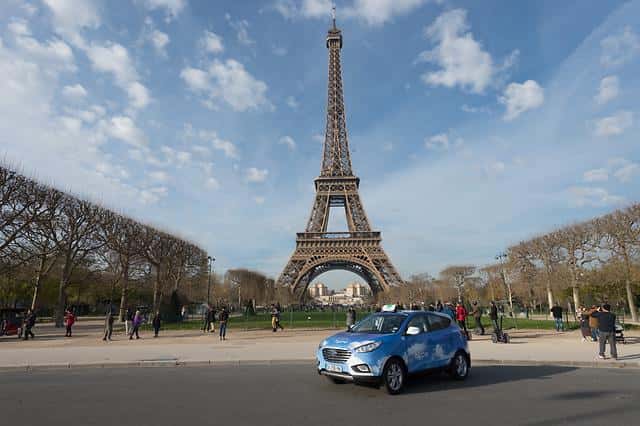 Hyundai Motor has delivered five ix35 fuel cell vehicles to Paris-based electric taxi start-up STEP (Societe du Taxi Electrique Parisien). The hand-over coincides with the opening of the first hydrogen refueling station in Paris, launched as the world focused on the recent COP21 summit.
Honda says the five vehicles constitute the world's largest fuel cell taxi fleet, and STEP plans to increase the fleet up to several hundred fuel cell vehicles within five years.
Thomas A. Schmid, chief operating officer at Hyundai Motor Europe, comments, "With this pioneering project, Hyundai Motor and STEP are bringing new sustainable mobility to the streets of Paris. The ix35 fuel cell taxis will provide not only a clean solution for the city, but also a practical, comfortable and reliable choice for drivers and passengers."
With this latest delivery, the number of ix35 fuel cell vehicles on European roads has passed 250 units. By year's end, the model will be available to buy or lease in 13 European countries.