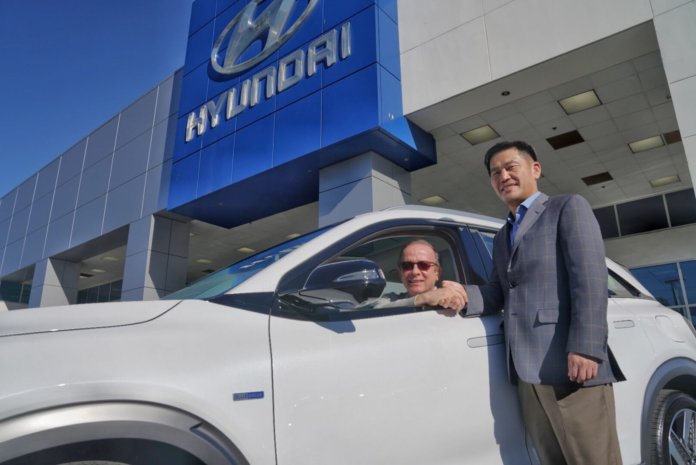 Hyundai has announced the first delivery of its 2019 NEXO fuel cell SUV.
Former scientist Todd Hochrad of Ventura, Calif., picked up his new SUV at Keyes Hyundai in Van Nuys to become the first U.S. customer to drive off in the new NEXO. More than 15 years ago, Hochrad purchased his first hybrid car and over the years has driven dedicated electric vehicles, as well.
According to Hyundai, the vehicle – the only mass-produced fuel cell SUV for the U.S. market – boasts a range of up to 380 miles. NEXO can be leased for $399 (Blue model) or $449 (Limited model) for 36 months or can be purchased for $58,300. The first year of maintenance is free of charge, and customers are eligible for a tax credit (subject to individual tax circumstances) from the state of California for up to $5,000. Purchasers of new Hyundai NEXO SUVs will receive hydrogen fueling cards with a combined maximum value of $13,000, to be used during the first three years of vehicle ownership, says the automaker.
The NEXO Blue model has an estimated range of 380 miles, and the NEXO Limited Trim has an estimated range of 354 miles. NEXO Blue models have estimated MPGe of 65 city, 58 highway and 61 combined, while NEXO Limited models have an estimated range of MPGe of 59 city, 54 highway and 57 combined. Fueling time can be as quick as five minutes, according to Hyundai.