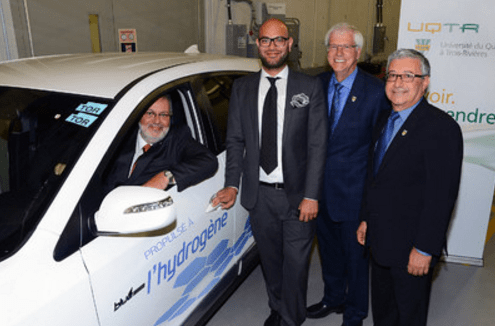 Hyundai Auto Canada Corp. says it has delivered a zero-emissions, hydrogen-powered 2016 Tucson fuel cell electric vehicle (FCEV) to Paul-Yvan Deschenes with the Centre de Gestion de l'Equipment Roulant (CGER) – its first customer in Quebec, the third province where the vehicle can now be found.
According to Hyundai, the CGER manages vehicle fleets for Quebec provincial ministries, and the lease is in partnership with the Hydrogen Research Institute of Trois-Rivieres at Universite du Quebec a Trois-Rivieres. The vehicle will be refueled at the institute.
Unlike battery-electric vehicles, the Tucson FCEV takes less than five minutes to refuel with hydrogen gas and can deliver an estimated 426 kilometers of emissions-free driving, says the automaker.
"The CGER is always pushing the boundaries of automotive fleets to reduce gasoline consumption and greenhouse-gas emissions," says Deschenes. "We have been studying fuel cell electric vehicle technology for many years and have been waiting for it to become available in Canada. With over 420 kilometers of range, seating for five, only pure water vapor as exhaust and only five minutes to refuel, the Tucson Fuel Cell is an excellent addition to our advanced vehicle fleet."
In November 2014, Hyundai Auto Canada announced it would become the first Canadian automotive company to offer its Tucson FCEV to actual, real-world customers. Since the first vehicle delivery took place in February 2015, six Tucson FCEVs have been delivering thousands of zero-emissions kilometers on the roads of British Columbia. This spring, the first customer in Ontario received a vehicle.
"It's no coincidence that we can find the advanced Tucson Fuel Cell in three of Canada's most populous provinces," says Don Romano, president and CEO of Hyundai Auto Canada. "When we took that first, necessary step with the technology in bringing the Tucson Fuel Cell into the market, it ignited conversations with government, customers and infrastructure companies across the country. The interest and demand for fuel cell electric vehicles is palpable. As access to hydrogen refueling facilities improves, so, too, will Hyundai's Fuel Cell vehicle."