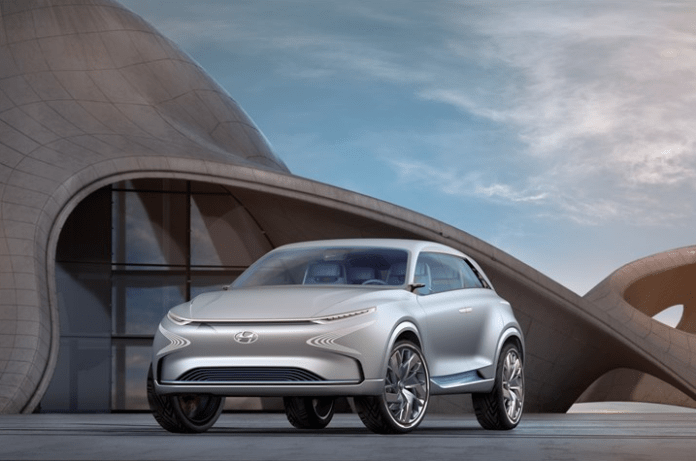 In a reaffirmation of its commitment to fuel cell vehicle development, Hyundai Motor Co. recently unveiled its FE Fuel Cell Concept vehicle at the Geneva Motor Show 2017.
According to the automaker, the FE Fuel Cell Concept represents the next step toward realizing Hyundai's ultimate ambition of creating a zero-emission hydrogen energy society.
In early 2017, at the Davos World Economic Forum, Hyundai Motor Co. joined the launch of the Hydrogen Council, a global initiative to promote the development and commercialization of fuel cell cars as an alternative to fossil fuel vehicles.
This follows two decades at the forefront of hydrogen vehicle development, most recently with the ix35 Fuel Cell (Tucson Fuel Cell in some markets), which, in 2013, became the world's first mass-produced hydrogen-powered vehicle and is currently on sale in 17 countries around the world.
Woong Chul Yang, vice chairman of Hyundai Motor Co., says, "Our FE Fuel Cell Concept is an important evolution of our pioneering hydrogen leadership and moves us closer to our vision for a 'Hydrogen Society,' where transportation is clean, efficient and enhances the lives of our customers."
The FE Fuel Cell Concept is part of the company's eco-vehicle program that will see 14 or more new environmentally focused models introduced by 2020. Spurred on by greater global demand for fuel-efficient, eco-friendly vehicles, the program continues the example of innovation set by IONIQ, the first car to offer a choice of three electrified powertrains in a single body type.
The FE Concept showcases Hyundai Motor's fourth generation of hydrogen fuel cell technology, an evolution of research, development and real-world evaluation programs around the world. When compared with the current generation system used in the Tucson ix35 Fuel Cell, the new technology is 20% lighter and achieves 10% greater efficiency. In addition, the power density of the fuel cell stack is increased by 30%, boosting the car's range significantly.
As noted, the car is designed to run for more than 800 kilometers between refueling.
Elements of the FE Fuel Cell Concept will influence an SUV Fuel Cell model set for launch in 2018, which will feature advanced "Hyundai Smart Sense" driver assistance technologies, alongside an extensive hydrogen-powered range.