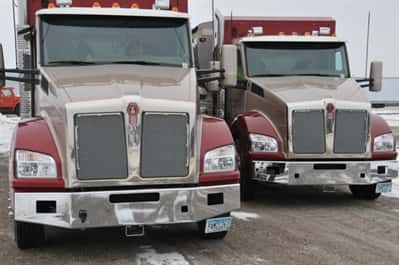 Last year, Minnesota-based Beaver Creek Transport started operating the first-ever Kenworth T880 trucks powered by natural gas. Brothers Randy and Scott Tersteeg, who own the transportation and warehousing business, as well as a family farm, say the new vehicles have produced big savings and performed well.
When it came time to replace two trucks in Beaver Creek Transport's fleet, the Tersteegs decided to move from diesel to compressed natural gas (CNG). They chose the Kenworth T880 as their base model, becoming Kenworth's first customers to use a natural gas-powered T880.
Â
According to Kenworth, the two T880s are equipped with the 400-hp Cummins Westport ISX12 G natural gas engine with a 13-speed Eaton transmission. The T880s also feature 145-gallon back-of-cab fuel tank systems made by dHybrid System, which is now Worthington Fuel Systems.
Randy says the consistently lower cost of natural gas and its availability convinced him and his brother to adopt CNG.
"We did a cost analysis and found the cost of natural gas is equivalent to paying about $2 for a comparable gallon of diesel fuel," he explains. "At the time of the analysis, we were paying nearly $4 for a gallon of diesel fuel."
"As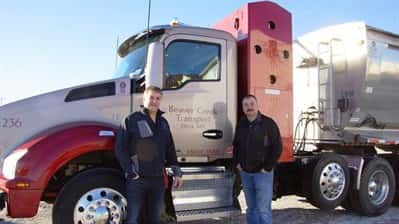 we looked at our options for replacing our trucks, the notion of natural gas became even sweeter after Houston-based CenterPoint Energy agreed to build a five-mile natural gas line out from Olivia to our warehouse," adds Randy. "And TruStar Energy received the bid to build a slow-fill fueling station equipped to handle up to 12 trucks."
Compared to the cost of operating its diesel-powered trucks, Randy estimates Beaver Creek Transport saves about $200 in fuel costs each day operating both CNG trucks – even with diesel prices currently at about $3 per gallon.
Furthermore, he says, "Since the T880s began running in August, they've operated well in some of our hottest and coldest temperatures of the year and have been performing very well."
In fact, the Tersteegs say they plan to replace more of Beaver Creek Transport's aging vehicles with CNG-powered Kenworth T880s in the future.
Photos courtesy of Kenworth Truck Co.