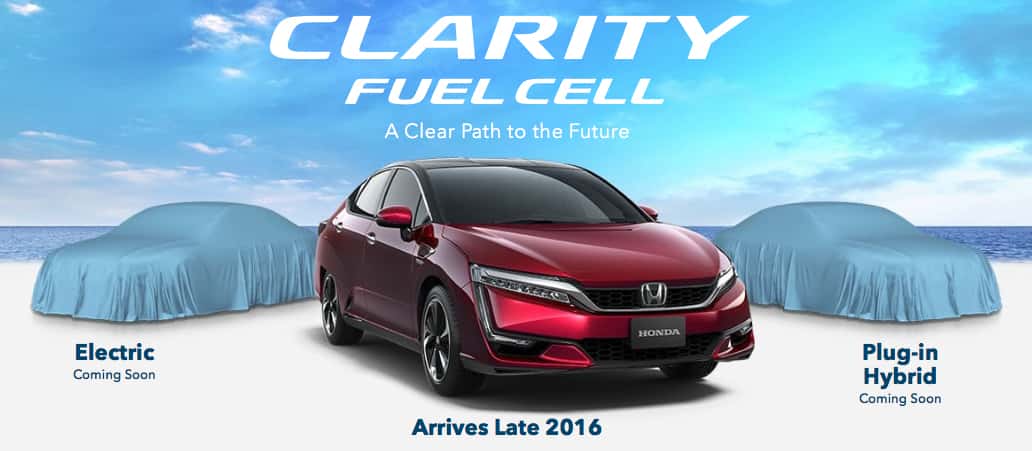 Honda says that in addition to releasing the upcoming Clarity Fuel Cell, it will also be launching two additional variants, the Clarity Electric and Clarity Plug-in Hybrid, throughout the U.S. in 2017.
These new Clarity vehicles are based on the same platform underpinning the Clarity Fuel Cell, which will be launched in the U.S. in late 2016. According to Honda, the addition of these vehicles makes Clarity the first vehicle in the industry to offer fuel-cell, electric and plug-in hybrid technology on one model platform.
Honda says the Clarity Electric is an affordable, midsize, five-passenger, battery-electric vehicle and that it will go on sale in 2017. The Clarity Plug-In Hybrid will be the volume leader in the series, according to the company, combining an all-electric driving range in excess of 40 miles with a hyper-efficient, gasoline-hybrid extended range mode. The Clarity Plug-In Hybrid will launch in all 50 states later in 2017.
"This Honda trio of dedicated, advanced technology vehicles, along with the expanded application of two- and three-motor hybrid systems to our core models, represents a strong commitment to Honda's future and will help create a new volume pillar for electrified vehicle sales," says John Mendel, executive vice president of Honda's automobile division.
The company adds that a re-engineered 2017 Accord Hybrid will also go on sale this spring, in addition to the Clarity series.