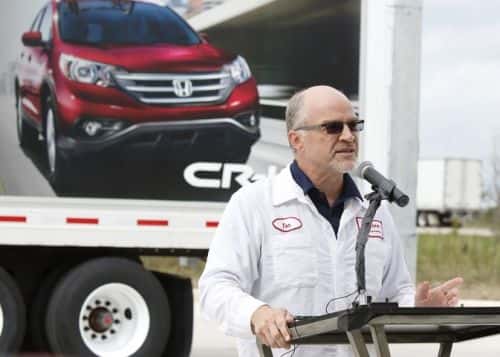 Honda has opened a compressed natural gas (CNG) fueling station on its property in Marysville, Ohio.
The CNG station, which was designed, constructed and will be operated by Trillium CNG, is the first public CNG station located on a Honda property in North America. Honda says the fully automated station is intended both to provide service to those that have already adopted the use of CNG, and to encourage and facilitate suppliers and logistical partners to adopt and expand its use in the trucks used in support of Honda operations.
'Honda considers the environmental impact of every aspect of our operations, and this new CNG station will help reduce the impact of the delivery to our plants in Ohio of more than 8 million parts each day,' says Honda's Tom Shoupe.
'We applaud Honda's global commitment to environmental stewardship and are proud to be their partner on this landmark project,' comments Joel Jansen, vice president of Trillium CNG. 'Ohio remains a pivotal state in our infrastructure development plans due to its proximity to several major interstates and key shipping lanes."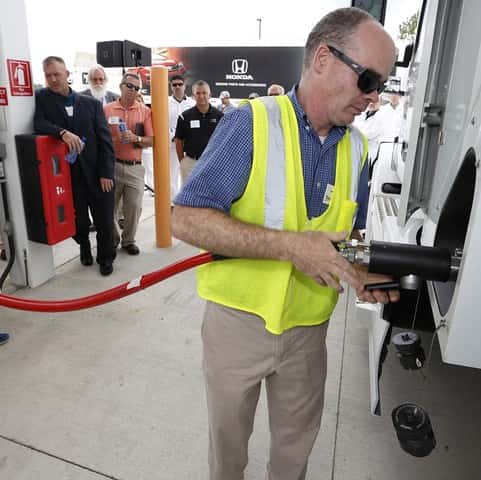 Jansen adds, "The station will feature our new proprietary fast-fill seven-inch Hydraulic Intensifier Compressor (HY-C). The new HY-C is capable of delivering more fuel than most conventional CNG sites, allowing multiple heavy-duty vehicles to fuel faster than ever across multiple lanes.'
The CNG station is located at the interchange of Route 33 and Route 739 near Honda's manufacturing and R&D operations and is part of a strategy that has seen Honda reduce the CO2 emissions intensity of its parts shipments by more than 35% since 2009. The station will feature three Class 8 dispensers for over-the-road carriers and can also serve customers who drive CNG-fueled passenger cars.
'As part of our overall commitment to being an environmentally responsible company, we have continued to look for ways to reduce our logistics emissions impact,' says Honda's Dana McBrien. 'The use of CNG as an alternative fuel allows us to do that. We decided to look for ways to create our own CNG infrastructure, and we are positioned to potentially expand our CNG network and help suppliers throughout our manufacturing network.'
Through its 'green factory' and 'green purchasing' programs, Honda says it is working to minimize the environmental impact of its manufacturing operations, including the upstream impacts of producing and shipping parts for vehicles produced at Honda plants.
Over the past 13 years, Honda says its plants in North America have reduced waste sent to landfills by 91.9%; and in the most recent full fiscal year, ended March 31, 2013, CO2 emissions from the production of Honda and Acura vehicles in North America were down 16.2%. In addition, CO2 emissions from shipment of finished products have been reduced by more than 14% since 2008.