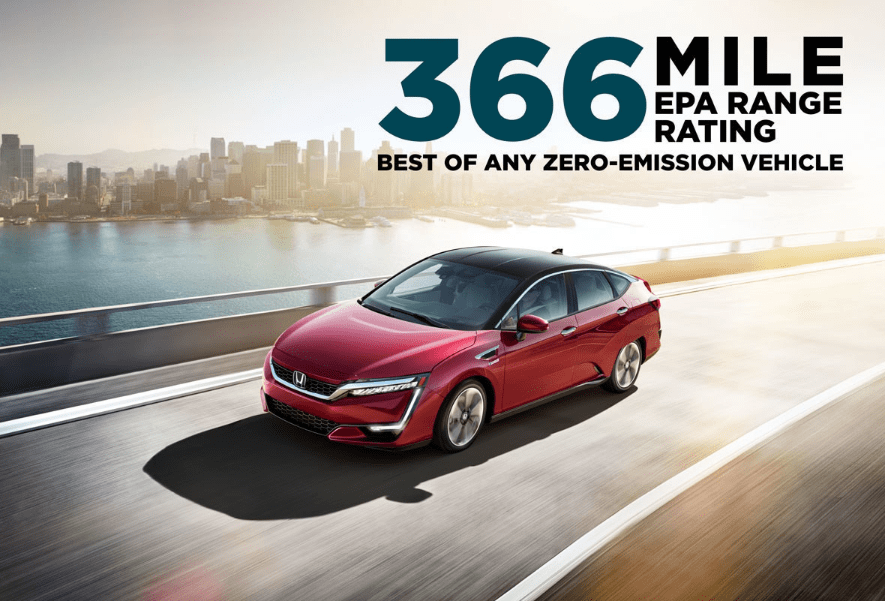 Honda has announced that its hydrogen-powered Clarity Fuel Cell sedan, launching later this year, officially received a U.S. Environmental Protection Agency driving range rating of 366 miles and fuel economy rating of 68 miles per gallon of gasoline-equivalent combined.
According to the automaker, this marks the best range rating of any zero-emissions vehicle without a combustion engine, including fuel cell and all-electric vehicles, in the U.S.
"Not only does the Clarity Fuel Cell fit five passengers and refuel in three to five minutes, it offers customers a driving range on par with gasoline-powered cars," says Steve Center, vice president of the environmental business development office at American Honda Motor Co. Inc. "The Clarity leads the pack, with a 366-mile driving range rating, and with a growing network of hydrogen stations and fast fueling time, the zero-emissions family road trip is no longer science fiction."
Honda will first introduce the Clarity Fuel Cell sedan for retail leasing to customers through its expanded network of 12 approved fuel cell vehicle dealerships located in select California markets. The company says it will further develop its dealer network as more hydrogen fueling stations become available.
Honda's second-generation fuel cell vehicle, the FCX Clarity, was launched in July 2008 and was quickly heralded as a technological breakthrough in the areas of design, packaging and efficiency. The FCX Clarity was powered by the smaller and lighter Honda V-flow fuel cell stack, positioned in the center tunnel of the vehicle, with the smooth, high-torque, front-wheel drive electric motor providing performance on par with a gasoline-powered sedan, including a 240-mile driving range rating.