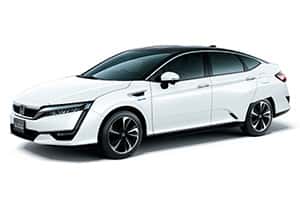 Honda Motor Co. has begun limited sales of its hydrogen fuel cell vehicle (FCV), the Clarity Fuel Cell, in Japan. The company aims to produce about 200 units of its zero-emissions, five-passenger sedan this year before ramping up production.
According to Honda, the improved efficiency of the hydrogen fuel cell powertrain and a reduced energy requirement for driving, a 70 MPa high-pressure hydrogen storage tank provides a driving range of approximately 466 miles, an increase of approximately 30% compared with the previous FCV model. The hydrogen tank can be refilled in approximately three minutes, realizing ease of use equivalent to that of a gasoline-powered vehicle.
Equipped with a high-output motor with maximum output of 174 horsepower, it is more powerful than its primary competitor, the Toyota Mirai. In combination with a portable external power output device, the Power Exporter 9000, which also went on sale today, the Clarity Fuel Cell can function as a "power source on wheels" that is capable of supplying approximately seven-days' worth of electricity for an average household.
For the first year of the Clarity Fuel Cell launch in Japan, Honda will focus on lease sales mainly to local government bodies or businesses Honda has already been working with for the popularization of FCVs. During this period, Honda will collect information about the in-market use of the Clarity Fuel Cell, as well as the external power output device, and gather diverse opinions and requests from customers and other relevant organizations, and then later begin sales to individual customers.
Honda will begin with small-volume production, eventually expanding production volume. Honda is also planning to introduce the Clarity Fuel Cell to Europe and the U.S. before the end of this year.