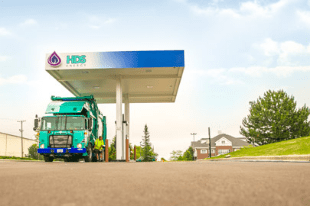 Homewood Disposal Service Inc., which provides trash, recycling and dumpster services for residents and environmentally responsible waste and recycling solutions for businesses, says it has opened a public compressed natural gas (CNG) fueling station at its Homewood, Ill., location.
According to the company, the HDS Energy station is located at 1501 W. 175th St., near Halsted Ave. and Interstate 80, making it a convenient stop for the area's busy transportation corridor.
Homewood Disposal says it began its commitment to cleaner fuel in 2012 when it first added CNG trucks to its fleet and installed a private CNG filling station at its Park Forest, Ill., location. Today, it has over 60 trucks running on CNG and continues to commit to CNG growth.
With the state of Illinois offering tax credits of up to $4,000 to CNG vehicle buyers, access to this public fueling station will make it easier for businesses and the public to switch over from diesel and gasoline.
A ribbon-cutting ceremony is scheduled for July 21, and the station is expected to open in early August.