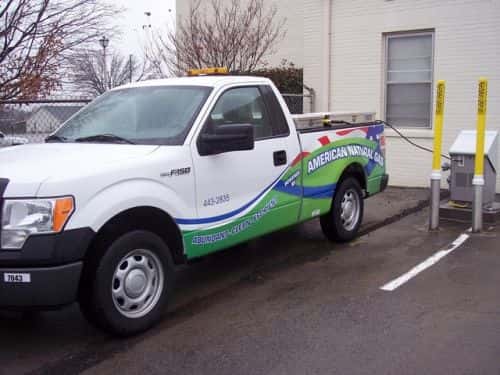 The municipal gas utility in Lebanon, Tenn., has installed time-fill compressed natural gas (CNG) refueling capability, as well as taken delivery of its first natural gas vehicle (NGV).
For this small city located 25 miles east of Nashville, these efforts likely represent just the beginning of its excursion into alternative fuels.
Jerry Snodgrass, manager of the city's gas department, tells NGT News that Lebanon is taking a walk-before-you-run approach to integrating natural gas into its fleet operations, but he notes that his team – and the city overall – is bullish on CNG and NGVs.
Among the first steps of the initiative was the installation of time-fill CNG refueling infrastructure, sited at the department's operations center. In partnership with MidSouth CNGV, the city installed BRC FuelMaker equipment at an acquisition cost of about $11,000. An additional $1,000 went into completing the balance of the system, such as electrical work.
Snodgrass explains that this apparatus is very simple – so the city was able to perform all the work itself – and accommodates two-vehicle fueling overnight (at approximately 1 GGE/hour).
The first NGV to come online in Lebanon is a converted 2010 Ford-150 with two-wheel drive and a short bed. Birmingham, Ala.-based Phoenix Energy Corp. performed the installation using IMPCO equipment – the bi-fuel system features twin 10 GGE CNG tanks in the bed.
This truck used about 1,030 gallons of gasoline last year, Snodgrass says. Based on that level of fuel consumption, the conversion cost of approximately $11,500 and the current price of natural gas, the city is looking at a payback period of four and a half years. Most of the city's trucks are in service for 10 to 12 years.
The next vehicle acquisition for Lebanon will be a new OEM unit: a Ford F-250 that the city will order from local dealership Golden Circle Ford. The truck will receive a Westport WiNG Power System, the CNG bi-fuel platform that Ford Motor Co. Qualified Vehicle Modifier Westport LD integrates into new F-Series Super Duty pickup trucks.
Notably, neither the initial NGV conversion nor the refueling infrastructure installation drew from grant funds or other incentives. The city made the investments right out of its coffers, and the expectation is that the fuel-cost savings realized from natural gas will cascade and support new vehicle acquisitions.
Moreover, the city is planning to move beyond the modest time-fill refueling set-up and into public-access, fast-fill CNG. Snodgrass says his budget for fiscal-year 2013-2014 already includes a request for funds to support such a build-out, and support for this initiative is strong.
City offices other than the gas department are considering NGVs, and a couple local contractors that notch huge mileage on their vehicles are looking into making conversions. Customers such as these would absorb a fair amount of the CNG refueling capacity at a city-owned fast-fill site, making the up-front investment more palatable.
'As we move into a public arena, everything would expand,' Snodgrass remarks.
Photo: A newly converted bi-fuel CNG F-150. Courtesy of the City of Lebanon