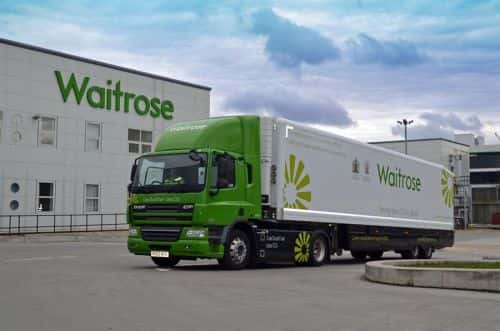 John Lewis Partnership (JLP), a U.K.-based company that owns dozens of department stores and supermarkets, has converted 38 DAF CF heavy-duty trucks to run on compressed natural gas (CNG) using Dieselblend dual-fuel technology from Prins.
The trucks will be used in the distribution fleet that moves goods for the John Lewis and Waitrose retail brands. Each vehicle features the Prins Dieselblend 2.0 CNG system, which is designed to integrate with virtually all diesel engines by using a computer-controlled injection system to replace an optimum amount of diesel with CNG. The system can also be integrated with propane autogas.
'We see dual-fuel CNG as a good pathway to using greater quantities of biomethane in our heavy truck feet,' says JLP's Justin Laney. 'The Prins conversion met our performance criteria, and we now have 38 trucks running this system.'
Prins notes that JLP's DAF CF trucks will have a driving range of 600 to 700 miles using only CNG, plus an additional 200 miles of range on diesel fuel.