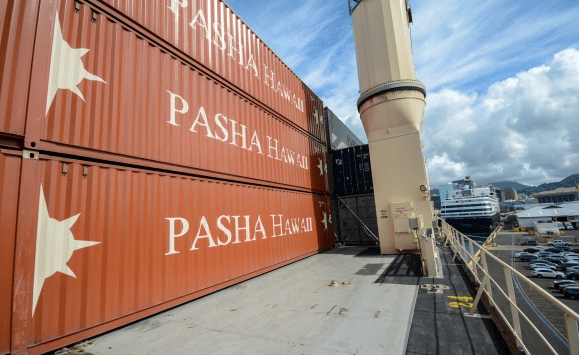 Honolulu-based Pasha Hawaii has narrowed its selection to two U.S. shipyards for the construction of two new liquefied natural gas (LNG)-fueled containerships, with the option to order two additional vessels.
According to the company, contract specifications are expected to be finalized by the end of the month, with the final selection decision anticipated in January 2017.
Details for the vessel order outline a shipping capacity of 3,400 TEUs, including 500 45-foot containers and 400 refrigerated containers, as well as a sailing speed of 23 knots. Delivery of the first vessel is expected mid-2019, with delivery of the second vessel to come in early 2020.
"In addition to increasing capability for our customers, these new ships will represent a new era in shipping for Hawaii in terms of greatly reduced emissions and increased efficiency," says George Pasha IV, president and CEO of the company.
As reported, the two LNG dual-fueled vessels will be the first of their kind in the Hawaii/Mainland trade lane, operating fully on LNG from day one in service, dramatically reducing environmental impact and increasing fuel efficiency. Energy savings will also be achieved with a new engine, an optimized hull form and an underwater propulsion system with a high-efficiency rudder and propeller.
When compared with conventional fuels, LNG offers significant environmental benefits, including the reduction of up to 95% sulphur oxides, nearly 100% particulate matter, up to 90% nitrogen oxides and up to 25% carbon-dioxide emissions from engine exhaust emissions.
"We are fortunate to have shipyards within the United States that are very capable of building best-in-class cargo ships, including LNG-powered vessels, competitively," adds Pasha. "Both the Jean Anne and Marjorie C are Jones Act-qualified vessels and, like our new containerships, represent many firsts for the industry in terms of design and performance."