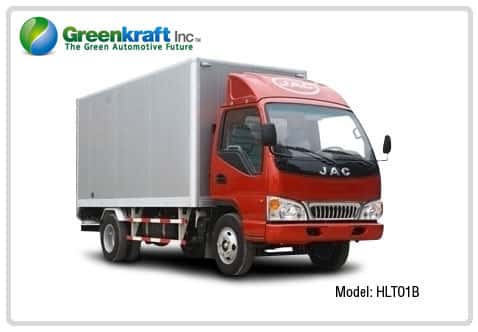 GreenKraft Inc., a manufacturer of Class 3 to Class 6 medium-duty trucks, has placed a $2.5 million order with Quantum Fuel Systems Technologies Worldwide Inc. for the supply of Quantum's compressed natural gas (CNG) fuel storage assemblies.
Quantum says the fully-integrated, rail-mounted fuel storage systems – which incorporate the company's ultra-lightweight Q-Lite CNG fuel storage systems – will be assembled and pre-tested in the factory. The design uses two composite natural gas tanks (per truck) that are supported by modular high-strength brackets.
'Quantum's advanced storage systems are configured to enhance the performance of these CNG medium-duty trucks,' says Brian Olson, president and CEO of Quantum.
GreenKraft specializes in cab-forward trucks that run on CNG, liquefied natural gas, gasoline or diesel, as well as electric vehicles. The company also produces 40- and 45-foot coaches.